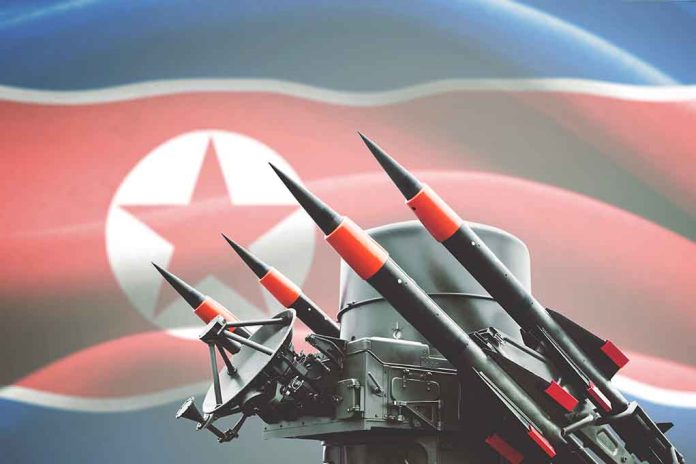 North Korea Reportedly Launches More Ballistic Missiles
(RepublicanPress.org) – Vice President Kamala Harris took a trip to the demilitarized zone between North and South Korea during her recent visit to Asia on Thursday, September 29. While there, she criticized North Korea's leader Kim Jong-un for firing ballistic missiles off the coast on Wednesday. While at the demilitarized zone, the VP was quoting by the New York Times saying the country was working to "destabilize the region."
Shortly after Harris left that day to return home to the United States, South Korean military officials reported that North Korea fired two more ballistic missiles from the South Pyongan Province toward the east coast. According to Reuters, the Joint Chiefs of Staff reported that South Korea detected the missiles shortly before 9:00 pm, and said the military "maintains full preparedness." The incident makes three such moves in less than a week.
North Korea launched two short-range ballistic missiles off its east coast, hours afterVice President Kamala Harris met with South Korean President Yoon Suk Yeol to discuss strengthening their nations' alliance. https://t.co/dv9hmG8u6F

— New York Times World (@nytimesworld) September 29, 2022
South Korea believes the missiles were from the KN-23 series. The weapons are part of Kim's quest to create "smaller, lighter, and tactical" missiles to use against his country's enemy neighbors, NYT reports.
Before the recent test, Harris met with South Korean President Yoon Suk-yeol in Seoul. The leader was there to discuss US military and economic relations with his country. While on the trip, the Veep affirmed that the United States stands in solidarity with its South Korean allies.
What do you think about the timing of the weapons tests?
Copyright 2022, RepublicanPress.org