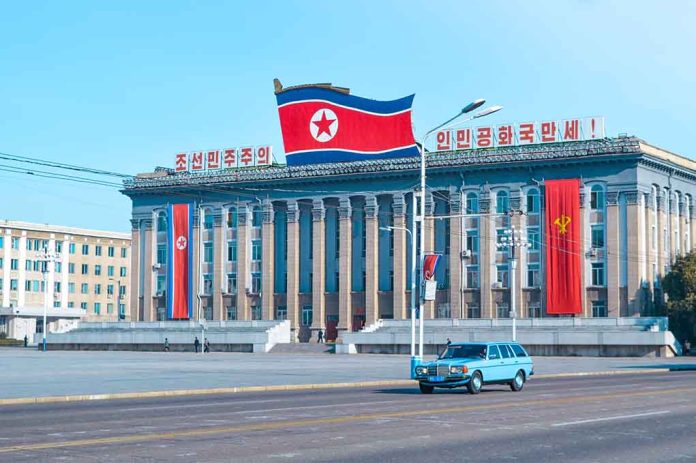 (RepublicanPress.org) – North Korean dictator Kim Jong-un appears to be ramping up his efforts to remain relevant on the global stage in an environment increasingly focused on the Russia/Ukraine war and Chinese provocations. He's spent the last few months testing hypersonic missiles, long-range ICBMs, and other so-called advanced weapons systems. The Asian country's latest test reportedly simulated a nuclear counterstrike.
On March 20, the Korean Central News Agency (KCNA), the country's state-operated media outlet, reported that Kim Jong-un personally led a series of nuclear counterattack simulation exercises over two days, ending on March 19. North Korea's combined military services conducted the drill to "bolster" the country's deterrent efforts and counterstrike capabilities.
Nuclear Counterattack Simulation Drill Conducted in DPRK
There took place on March 18 and 19 a combined tactical drill to substantially bolster the country's war deterrence and nuclear counterattack capability mplementing their tactical nuclear attack missions. pic.twitter.com/rwqv9GEBHT

— KFA-UK (@Korea_Friend_UK) March 19, 2023
KCNA explained that the drills were conducted in the wake of "scaled up" efforts by "US [and] South Korean allied forces to invade" the Democratic People's Republic of Korea, North Korea's formal name. The article also accused the United States of transferring "strategic" nuclear assets to Seoul.
The first day of exercises "proved" the North Korean military's preparation for a nuclear counterstrike was operating in a "fast, strict, highly reliable and safe [manner]," according to the KCNA. Additionally, officials "repeatedly" conducted drills to "reexamine the reliability" of its command and control strategies and operating systems.
Getting into the nuts and bolts of the operations, KCNA reported that military officials detonated a tactical ballistic missile armed with a mock nuclear warhead 800 meters (roughly 2624 feet) above the East Sea of Korea (recognized globally as the Sea of Japan).
North Korea's propaganda arm concluded its report by declaring the DRPK will successfully "deter, control, and manage" its enemies' "reckless moves and provocations… without hesitation."
The Wall Street Journal reported that North Korean forces had already conducted several missile launches in response to an ongoing joint military exercise conducted by the US and South Korea, ending on March 23.
Meanwhile, it remains unclear whether or not any North Korean missile silos would survive a nuclear first strike by US or South Korean forces.
Copyright 2023, RepublicanPress.org