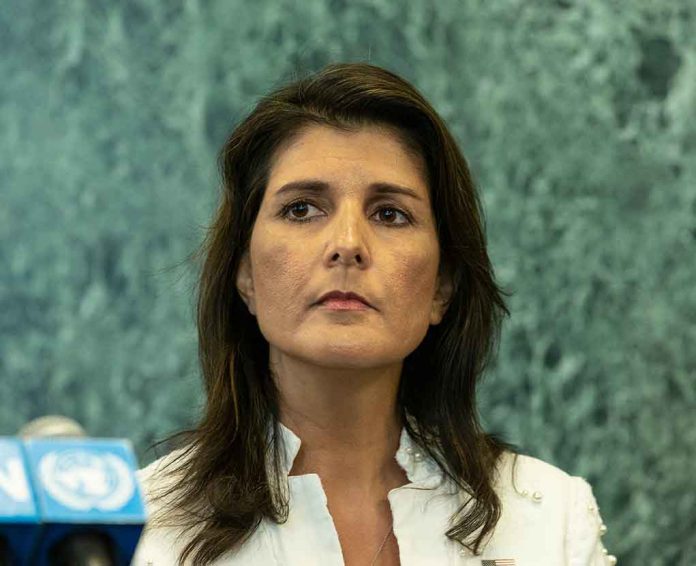 (RepublicanPress.org) – Former South Carolina governor and previous US ambassador to the United Nations Nikki Haley announced her bid for the White House weeks ago and has been trying to rally support since. As the daughter of legal immigrants and with a clear stance on immigration in her home state, the presidential hopeful is now heading to the US-Mexico border to talk about immigration. Her trip will be the first from a Republican primary candidate this year.
According to an exclusive Fox News report, Nikki Haley will visit the southern border on April 3. Joined by Rep. Tony Gonzales (R-TX), she will tour spots that have seen the biggest surges in illegal immigration in recent years. A notable plan she has includes nixing the funding for 87,000 additional IRS staff members and adding 25,000 new Border Patrol agents to guard the US.
Let's be clear: Biden caused the southern border crisis and ignored it for 2 years.

I'm going to the border because we have to stop the flow of illegal immigration and deadly fentanyl NOW. American lives are at stake. https://t.co/tigF9gejBU

— Nikki Haley (@NikkiHaley) March 28, 2023
In her home state of South Carolina, Haley signed a bill mandating that every business use E-Verify to ensure their employees are legally authorized to work in the US. The GOP leader wants to make that requirement a federal law as well. Lastly, the former governor hopes to minimize the federal funding going to states, such as New York, that provide illegal immigrants with money.
Like many other Republicans, Haley hopes to reinstate the Remain in Mexico policy instituted by President Donald Trump and continue building the wall. The Remain in Mexico policy has been the subject of much debate in the US, especially since President Joe Biden entered office. The US Supreme Court originally gave the Biden administration the green light to end the policy, but court fights are ongoing.
This stance from Haley lines up closely with that of Trump, DeSantis, Senator Tim Scott (R-SC), and former Vice President Mike Pence, all of whom are current or potential GOP candidates. Vivek Ramaswamy, a younger Republican candidate garnering national attention, has emphasized on Twitter that the US must "unapologetically" secure the border in order to "restore merit for who gets to come into America."
Copyright 2023, RepublicanPress.org