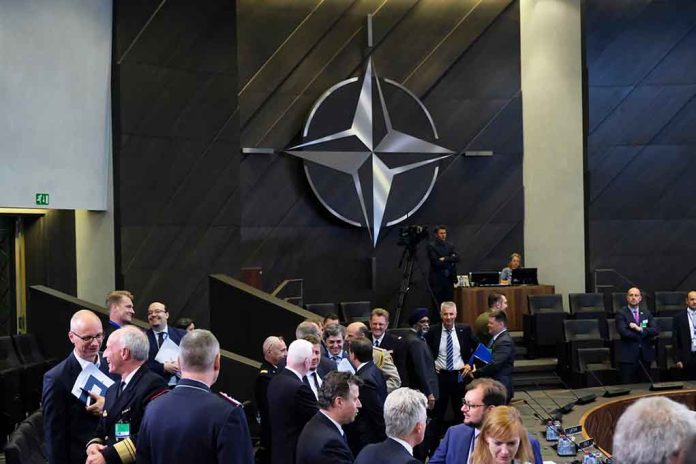 NATO Head Expresses Support for Ukraine Joining Organization
(RepublicanPress.org) – On February 24, 2022, Russia launched an invasion of Ukraine in the latest escalation of the Russo-Ukrainian War, which dates back to 2014. President Vladimir Putin announced the "special military operation," telling Russian citizens its purpose was to protect Ukrainians. He also said Russian forces would "seek to demilitarise" the country, among other things.
Nine months into the war, the head of the North Atlantic Treaty Organization (NATO) made it clear the organization's door is not closed to Ukraine.
Putin's Agenda
Putin focused on security concerns regarding NATO for roughly the first half of his televised address. He characterized the "eastward expansion of NATO" as a fundamental threat, "rudely and unceremoniously" inflicted on the Russian people.
Putin said Russian officials had been attempting to patiently come to an agreement with top NATO countries regarding European security for decades. Instead, however, he claimed Russia "faced either cynical deception…lies, or attempts at… blackmail" as the alliance continued to grow.
Ominously, Putin concluded his remarks about NATO expansion. He cited the USSR's lack of preparedness to counter the Nazi's invasion of the country in 1941 and connected it to recent efforts by NATO to "step up efforts" to position itself closer to Russia by creating a "military foothold" in Ukrainian territory.
Putin called NATO a "very real threat" to Russia's interests and existence. He accused it of crossing the "red line."
NATO Head Indicates Support for Ukraine's Entry
On November 29, NATO Secretary General Jens Stoltenberg gave the opening address at the Aspen – GMF Bucharest Forum. In its 11th year, it provides a platform for forward-thinking debate to address issues confronting the alliance. The Russia-Ukraine conflict provided much of the context for this year's gathering.
Stoltenberg praised the "bravery" and "courage" of the Ukrainian armed forces and lauded them for what they've achieved. He also stressed "NATO's door is open," evidenced by the recent addition of North Macedonia and Montenegro to the alliance.
Turning his attention to Ukraine, Stoltenberg said the open door policy applied "specifically" to Ukraine in both words and deeds. However, he reiterated a previous statement confirming that all 30 of NATO's member states must approve Ukraine's entry into the alliance.
Additionally, Stoltenberg indicated that allowing Ukraine to join NATO during an armed conflict could divide members in a doorstep statement released ahead of the forum. He noted that for the time being, NATO would avoid doing anything to "undermine the unity of Allies" while they provide "military, humanitarian [and] financial support to Ukraine."
Ukrainian President Volodymyr Zelenskyy announced he applied for accelerated accession to NATO in a September 30 address. Membership in NATO would provide a considerable layer of protection for the country from foreign aggression under Article 5, which provides for the common defense of member states. In practical terms, it considers an attack on one of its members as an assault against all allies.
Copyright 2022, RepublicanPress.org