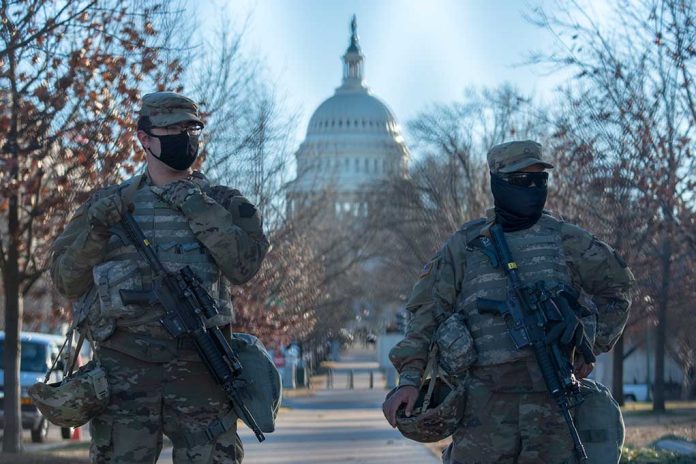 National Guard To Fall Short of Recruiting Goals, Chief Says
(RepublicanPress.org) – The National Guard is a state-run military force operating under the command and control of the US Department of Defense (DOD). Earlier this year, it lessened its requirements for newcomers. However, it still has issues with meeting new recruit numbers.
Early American colonizers created the guard in 1635 to serve as a civilian force to protect the first British settlements in the New World. Congress codified the state-based militias in 1792, and followed up three years later with the Militia Act of 1795, which granted the president the authority to assume command of the state militias to ward off an imminent invasion or internal rebellion.
Today's National Guard troops serve their local communities and the federal government. They respond to domestic emergencies, natural disasters, assist counterdrug efforts, and perform overseas combat missions. As an entity, the guard serves as a reserve component of the US Army and Air Force when called into federal service.
Right now, the @PRNationalGuard is doing heroic work in the wake of Hurricane Fiona. Our Guardsmen rescued 21 people at an elderly home, 59 people from a flooded community, and even a man clinging to a concrete post in 6 ft flood waters. Keep up the great work. https://t.co/PPCfrbvFQ2

— Secretary of Defense Lloyd J. Austin III (@SecDef) September 20, 2022
Most recently, National Guard troops have been providing rescue and relief services in Puerto Rico in the wake of Hurricane Fiona. Heavy rainfall and winds covered the entire island, causing a territory-wide power outage on September 18. Guard members have also rescued dozens of civilians due to flooding, landslides, and other storm-related phenomena.
However, the National Guard is currently suffering a troop shortage, and a recent announcement indicates the problem will likely get worse before it gets better.
National Guard Expected To Miss Its Recruitment Goals
Gen. Daniel Hokanson, the 29th National Guard Bureau Chief, was reported by CBS News saying National Guard was expected to miss its recruitment goals by about 9,000 members by the end of the fiscal year, including 6,000 Army National Guard recruits and 3,000 for the Air National Guard.
The National Guard is expected to miss its recruiting goals by 9,000 members when the fiscal year ends next week, the chief of the National Guard bureau said Tuesday. https://t.co/mjcznPb5Mw

— WJZ | CBS Baltimore (@wjz) September 21, 2022
The National Guard head said recruiters told him they were facing "unprecedented" challenges this year in finding enough recruits. Hokanson attributed the shortfalls to increased competition from the private sector and universities. Similarly, he said the pool of qualified 18- to 24-year-olds was low.
The National Guard Has a Plan To Fix Recruitment Shortfalls
Lieutenant General Jon A. Jensen recently sat down for a wide-ranging interview with the US National Guard Association (NGAUS). The subject of troop strength arose during the conversation. The general said the guard had recruitment challenges this year like every other military service. However, he said the National Guard was taking a three-prong approach to increase troop strength:
Support Recruiters: The National Guard is launching a master training pilot program for recruiters and will assign a master trainer to each state and territory.
Attract Enlistees: The guard is currently developing a Total Army approach to modernize and redefine how it handles medical care and entry-level training operations.
Expand Re-enlistment Efforts: The guard is awaiting approval from Army brass for a new prior-service integration course that would preclude the need for former service members to retake basic training.
In the meantime, military leaders recently provided testimony before the Senate Armed Services Committee to discuss recruitment efforts. The US Army expects to miss its recruitment target by about 30,000 enlistees. The Air Force is expected to narrowly meet its goal but will fall short with its target for reservists. Meanwhile, the Navy and Marines have both met their goals for active-duty troops, although the Marines adjusted its target at one point, according to The Washington Post.
Copyright 2022, RepublicanPress.org