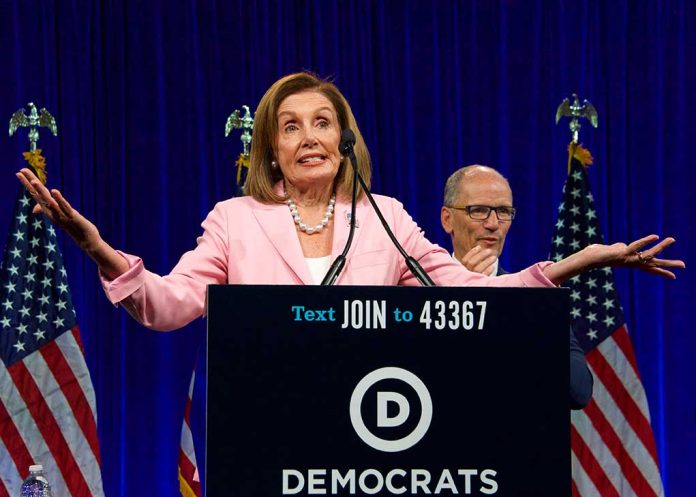 Nancy Pelosi Finally Gets What's Coming To Her!
(RepublicanPress.org) – Catholic bishops in the United States have been grappling to come up with a response to politicians who support a woman's right to abortion. After months of wrangling with the issue, a powerful California church leader recently stepped out of the veil of secrecy surrounding deliberations and barred House Speaker Nancy Pelosi (D-CA) from taking Holy Communion.
On Friday, May 20, San Francisco Archbishop Salvatore Cordileone announced his decision regarding Speaker Pelosi. Cordileone explained he struggled with his conscience for several years, particularly when it comes to Pelosi.
According to the archbishop, Pelosi's position regarding abortion has become more extreme over the years instead of softening. For that reason, he decided to issue the ban under Canon Law and the teachings of Cardinal Joseph Aloisius Ratzinger who later served for eight years as Pope Benedict XVI.
After numerous attempts to speak with Speaker Pelosi to help her understand the grave evil she is perpetrating, the scandal she is causing, an the danger to her own soul she is risking, I have determined that she is not to be admitted to Holy Communion. https://t.co/l7M85CyG86

— Archbishop Salvatore J. Cordileone (@ArchCordileone) May 20, 2022
Cordileone sat down for an interview on Friday, May 20, to discuss his decision with "America Media" podcast host Gloria Purvis. She asked the Archbishop if the recent disclosure of a draft Supreme Court decision regarding Roe v. Wade influenced his decision. Cordileone said the recent controversy surrounding the landmark decision had "nothing to do with the timing" of his declaration.
The Archbishop also confirmed the communication channels between him and the House Speaker remained open. "I've let [Pelosi] know I'm ready and willing to speak… wherever and however she wishes." He also said he harbored no animosity toward the Speaker.
What do you think of Archbishop Cordileone's decision?
Copyright 2022, RepublicanPress.org