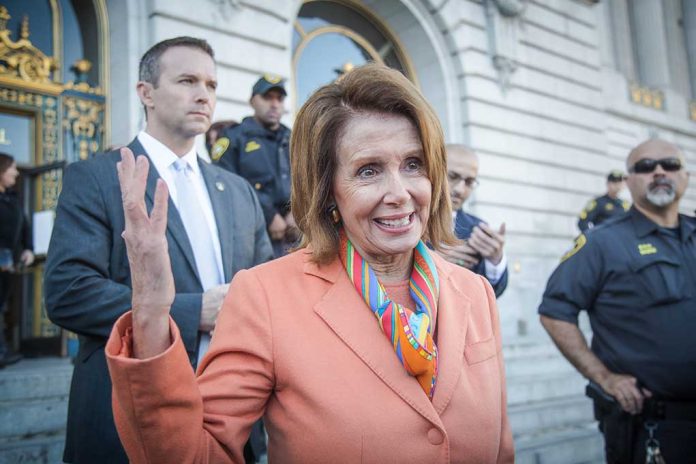 (RepublicanPress.org) – Members of the progressive wing of the Democratic Party, like Rep. Alexandria Ocasio-Cortez (D-NY), have called on local government to "defund the police" for the past couple of years. Now, with the midterm election looming and violent crime on the rise, House Speaker Nancy Pelosi (D-CA) is finally jumping ship.
Speaker Pelosi sat down for a wide-ranging interview with ABC News host George Stephanopoulos on Sunday, February 13. After discussing the Ukrainian crisis and soaring inflation, the host turned his attention to the nation's rising crime.
.@SpeakerPelosi says "defund the police" is "not the position of the Democratic Party" as lawmakers remains split over how to address crime.

"Community safety, to protect and defend in every way, is our oath of office." https://t.co/aDk5PlB0wK pic.twitter.com/aKzG9lAKBo

— This Week (@ThisWeekABC) February 14, 2022
As Stephanopoulos aptly pointed out, Democrats remain bitterly divided on how to handle the situation. He pointed to the examples of Rep. Cori Bush (D-MO), who continues to back efforts to defund law enforcement agencies, and Karen Bass (D-CA), a Democratic mayoral candidate in Los Angeles, who wants to increase the city's police force.
Pelosi responded that the idea of defunding policing agencies runs contrary to the Democrat's platform. "Make no mistake, community safety is our responsibility," she explained, quoting a comment from Rep. Ritchie Torres (D-NY) that "defund the police is dead."
However, Pelosi did say that she supported police reform measures addressing issues associated with law enforcement officials' use of no-knock warrants, chokeholds, and other common-sense reforms.
Do you support the idea of legislation designed to reform the police?
Copyright 2022, RepublicanPress.org