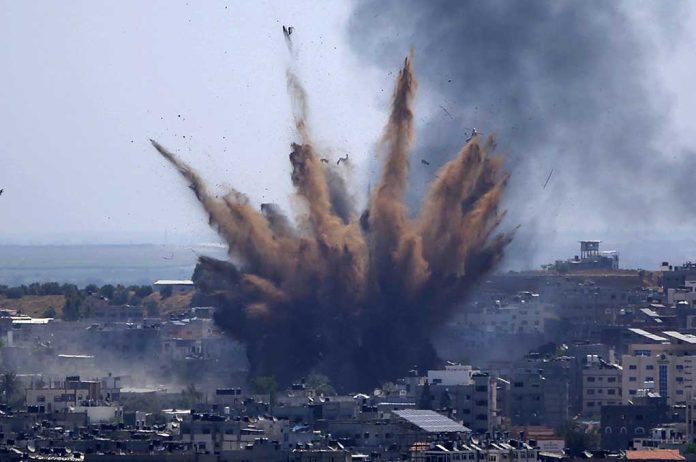 Russian Embassy ATTACKED – Multiple Dead!
(RepublicanPress.org) – After the fall of Afghanistan to Taliban rule in August 2021, most countries pulled their embassies out of the country — except Russia. It appears that decision may now have cost the country.
On September 5, a suicide bomber reportedly attacked the foreign embassy near Kabul, killing a Russian security guard, diplomat Mikhail Shakh, and four Afghan citizens. Ten others were injured. The Islamic State subsequently claimed responsibility for the bombing.
The Islamic State has claimed the suicide bombing at the Russian Embassy in Kabul in a statement through its Central Media outlet Amaq. The statement says that the bomber blew himself in a crowd. "The Taliban had assured countries including Russia of their safety" it concludes. pic.twitter.com/ambveXPJ70

— The Khorasan Diary (@khorasandiary) September 5, 2022
According to Reuters, the head of the police district, Mawlawi Sabir, said the attacker was likely aiming for the embassy building, but Taliban guards shot him before he could reach his destination. Unfortunately, the incident still resulted in a deadly explosion. Anatoly Antonov, the Russian ambassador to the US, condemned the attack in a post on social media, vowing those behind the incident would face punishment.
The United Nations Assistance Mission in Afghanistan (UNAMA) also spoke out against the bombing, confirming that the Taliban needed to take steps to prevent more incidents.
The Investigative Committee of Russia announced that it's working with Afghan police to investigate the matter, and Russian Foreign Minister Sergey Lavrov said they already firmed up security around the embassy to prevent any further terrorist attacks, the Washington Post reported.
WaPo also reported that spokesperson Abdul Qahar Balkhi assured the public that the incident will not affect Russian-Taliban relations.
IEA has close relations with the Russian Federation & will not allow the enemies to sabotage relations between both countries with such negative actions.

— Abdul Qahar Balkhi (@QaharBalkhi) September 5, 2022
Reportedly, Russia has yet to recognize the Taliban's authority in Afghanistan, maintaining it's a terrorist organization, but the countries still have diplomatic ties.
Copyright 2022, RepublicanPress.org