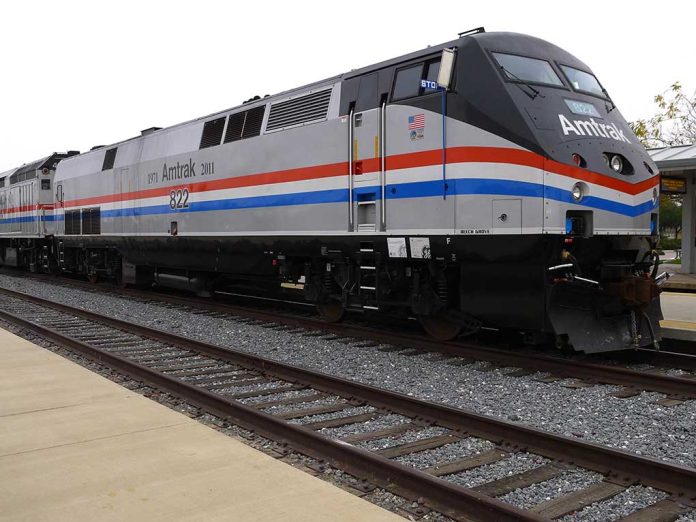 Train CRASH – Death Toll Confirmed!
(RepublicanPress.org) – The National Railroad Passenger Corporation (Amtrak) has a history of fatal accidents spanning back to an Illinois derailment that killed 11 people and injured 163 during its second month of service in June 1971. Sadly, a recent incident killed multiple individuals a couple of hours northeast of Kansas City, Missouri.
On Monday, June 27, the Missouri State Highway Patrol (MSHP) issued a statement detailing a fatal accident involving an Amtrak passenger train. At about 12:43 p.m., the Chariton County Call Center received a 911 call about the incident. When first responders rushed to the site near Mendon, Missouri, they determined the train had collided with a dump truck at a railroad crossing.
Update on the fatal crash involving Amtrak train and truck.

>> This investigation is in its preliminary stages and as more information becomes available it will be provided. pic.twitter.com/RQZyfvHqLz

— MSHP Troop B (@MSHPTrooperB) June 27, 2022
Seven of the train's eight cars derailed. The MSHP later confirmed the crash killed three people on the train and one in the dump truck. Additionally, around 150 people suffered from various injuries, some requiring medical transport to nearby medical facilities.
Amtrak's Media Center issued a press release, confirming that the train, Southwest Chief Train 4, was traveling from Los Angeles to Chicago. Around 12 crew members and 275 passengers were on board at the time of the crash.
Several passenger cars and the engines of an Amtrak train rest on their sides after the train hit a truck at a crossing Monday near Mendon, Missouri. At least three people died in the accident, and several others were injured.

📸 Jill Toyoshiba/The Starhttps://t.co/JVcHLcuOLP pic.twitter.com/S5SjCBgAvI

— The Kansas City Star (@KCStar) June 28, 2022
Amtrak also advised that it activated its Incident Response Team and notified the National Transportation Safety Board.
Anyone with questions regarding loved ones traveling on the train can contact Amtrak at 1-800-523-9101 for additional information.
Copyright 2022, RepublicanPress.org