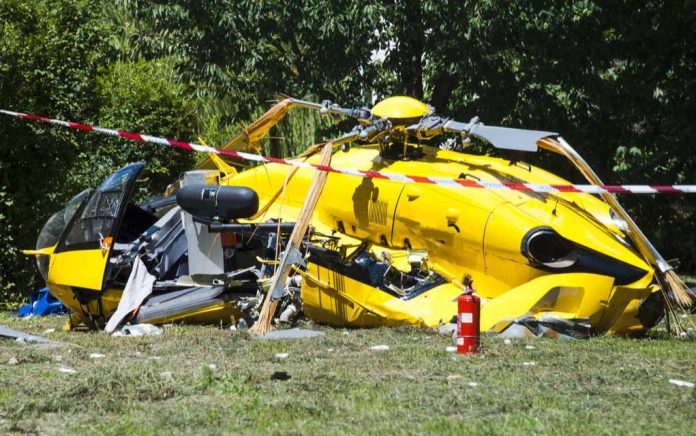 (RepublicanPress.org) – Residents of the Hawaiian island of Kauai observed a giant mushroom cloud in the morning hours of Tuesday, February 22. Sadly, the source of the cloud was a downed Sikorsky S-61N helicopter, a civilian model of the twin-engine Sikorsky SH-3 Sea King anti-submarine warfare airship.
At the time of the crash, the aircraft's four-person crew was supporting a military operation at nearby Pacific Missile Range Facility, Barking Sands, a naval base located a few miles northwest of Kekaha, Hawaii. The individuals onboard included pilot Daniel Maurice, command pilot Patrick Rader, and mechanics Ericka Tevez-Valdez and Mathew Haider. Tragically, all four on board perished in the fiery crash.
Media outlets reported that Oregon-based military contractor Croman Corporation owned and operated the chopper. Officials said it crashed after picking up an object from the ocean. It attempted to place the hoisted item on land when it hit the ground.
The NTSB is investigating a helicopter crash that killed four crew members at a Navy missile range in Hawaii on Tuesday. pic.twitter.com/niY0G7qCms

— TODAY (@TODAYshow) February 23, 2022
A witness to the crash, Chris Turner, told reporters the helicopter's load didn't drop for some reason. Continuing, he told reporters, "something caused the helicopter to accelerate."
"It tweaked to the right" and immediately sped up, taking only a second before crashing to the ground, and "that was it," he added.
Sen. Mazie K. Hirono (D-HI) posted a tweet promising to speak with officials at the missile range and keep in close contact with accident investigators. She also wrote that her heart went out to the families of the crash victims.
Local media outlet Hawaii News Now reported Tuesday evening that NTSB and FAA teams were already en route to the crash scene.
Copyright 2022, RepublicanPress.org