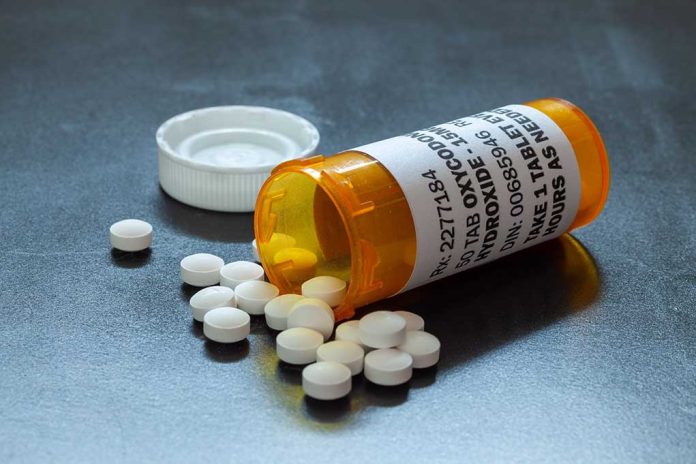 DOJ CRACKDOWN – 12 Doctors Charged!
(RepublicanPress.org) – On May 4, the Justice Department announced it took a big step towards tackling the opioid overdose crisis in the Appalachian region of the United States. Multiple agencies gathered together to form the Appalachian Regional Prescription Opioid (ARPO) Strike Force in 2019. The conglomeration resulted in the arrest of 12 medical professionals and two non-medical personnel for illegally prescribing and distributing pain pills in the area.
Since its inception, the ARPO has taken down a total of 111 people illegally prescribing "controlled substance pills" and bringing them to justice.
Justice Department Announces Enforcement Action Charging 12 Medical Professionals with Opioid Distribution Offenses

Appalachian Regional Prescription Opioid (ARPO) Strike Force Combats Unlawful Prescribing Amidst Continuing Opioid Epidemic https://t.co/i60mpZQi7i

— Criminal Division (@DOJCrimDiv) May 4, 2022
Assistant Attorney General Kenneth Polite reported more than 75,000 citizens of the US died from an opioid overdose in the last year, a statistic to which the accused contributed. The defendants reportedly distributed 5.1 million opioid pills illegally.
According to May 5 report from CBS News, US Attorney for the Southern District of Ohio Kenneth Parker stated the medical professionals involved in the illegal prescription and distribution practice are "no different than any drug dealer." Instead of using the medical privilege they earned while completing their higher education to help patients, their actions instead put their patients at risk. By neglecting to prescribe based on patient needs and monitoring amounts like the law demands, they risked giving that person the means to overdose on the drug.
Copyright 2022, RepublicanPress.org