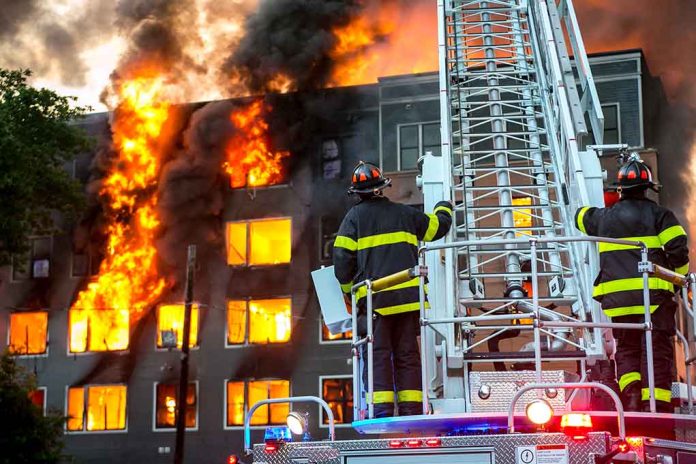 (RepublicanPress.org) – Many Americans have applauded the nation's healthcare workers for their heroic efforts to save lives during the pandemic. Likewise, the country's law enforcement workers have received recognition for their contributions after American cities echoed with the call to "defund the police" for months. Yet, at the same time, firefighters have remained the unsung heroes of many communities, even though they put their lives on the line 365 days of the year.
Sadly, a Baltimore fire claimed the lives of three brave firefighters and critically injured a fourth after they responded to a fire at a Baltimore rowhouse on Monday, January 24. Baltimore City Fire Chief Niles Ford told reporters the department responded to the early morning call at a vacant three-story house a couple of miles from downtown Baltimore.
Today, Lt. Paul Butrim, FF Kelsey Sadler & FF Kenny Lacayo lost their lives in service to our city. FF John McMaster remains in the hospital in critical but stable condition. We will continue to pray for the family of those we lost. pic.twitter.com/cRGXp1YwNp

— Baltimore Fire (@BaltimoreFire) January 25, 2022
According to Ford, the three firefighters got trapped inside the house as flames consumed the building, which partially collapsed a few minutes later. Workers had to remove piles of debris to find them. Miraculously, they found one firefighter alive and quickly transferred him to a hospital in critical condition.
Crews found two other firefighters and took them to a local hospital, where workers officially pronounced their death. The fourth firefighter died at the scene of the fire.
Maryland State Fire Marshal Brian Geraci told reporters his office initiated an investigation into the deadly blaze. As he explained, investigators were going door-to-door hoping to find surveillance video showing who may have entered the building.
— Baltimore Fire (@BaltimoreFire) January 25, 2022
On a positive note, medical authorities upgraded EMT/Firefighter John McMaster's condition to fair on Tuesday. Chief Ford told reporters the brave hero was conscious and alert.
Copyright 2022, RepublicanPress.org