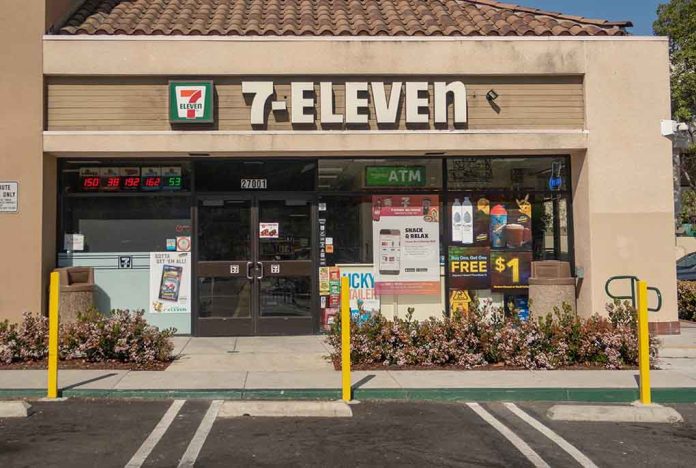 String of Violent CRIMES Reported at 7-Eleven Locations – Officials Respond!
(RepublicanPress.org) – A string of armed robberies at 7-Eleven stores in Southern California caused the chain to take drastic measures. The incidents occurred across six cities around Los Angeles on National 7-Eleven Day, resulting in several shootings.
After the shooting spree, the corporate office encouraged its convenience stores in the area to shut down the nights of July 12 and 13 to keep both employees and customers safe. In all, two people were killed, and three were wounded during the five-hour spree.
#BREAKING: Officials from 7-Eleven's corporate office say stores across the Los Angeles area should consider closing for the night following recent robberies and gun violence that left two people dead and several others injured
https://t.co/cDgubX2rJ4

— KTLA (@KTLA) July 12, 2022
The spree started in Ontario, then moved on to Upland, Riverside, and Santa Ana, where the first victim was murdered. The alleged shooter then traveled to La Habra to continue the robberies, killing another person and wounding two.
The tragedy highlights the increase in violent crime in the area as the murder rate in Los Angeles continues to climb. The homicide rate in the area as of June 18 was up 5.5% from 2021 and a whopping 35% over 2020, according to LA Police Department numbers reported by Bloomberg. In fact, Starbucks announced it's shutting down some stores in the city for safety reasons.
The criminal who terrorized 7-Eleven stores in the Golden State is still at large. He was reportedly wearing a mask and a black sweatshirt with white lettering and a hood at the time of the incidents.
Do you think convenience stores should continue serving customers in the middle of the night, or should they do away with the graveyard shift?
Copyright 2022, RepublicanPress.org