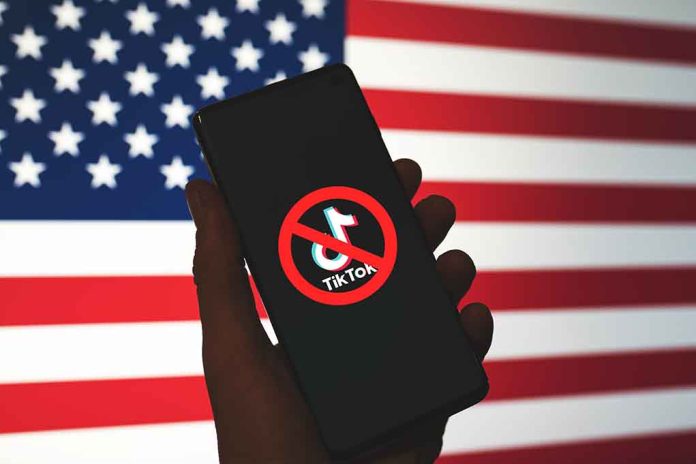 (RepublicanPress.org) – Concern among lawmakers continues building regarding potential national security risks posed by TikTok, a Chinese-based video-sharing platform. Montana lawmakers recently passed a measure that would the use of the site in the Treasure State.
On April 14, the Republican-led Montana House of Representatives passed SB419 along party lines by voting 54 to 43. Entitled: "An Act Banning TikTok in Montana," the bill will prohibit mobile app stores from offering the TikTok app for download to Montana users.
The Montana Senate passed SB419 in March by a partisan vote of 30 to 20. Republicans control the chamber 34 to 16. The bill now goes to Republican Governor Greg Gianforte's desk. If he signs the measure into law, it will go into effect on January 1, 2024.
TikTok draws ire of legislators, other social media apps do not. "Montana will stand up and say we've had enough of this infiltrating our kids, infiltrating our system and stealing all of our information." – Butcher. By @blairmiller: https://t.co/nOumaheOU5 #mtleg #mtpol

— Daily Montanan (@daily_montanan) April 14, 2023
SB419 provides a $10,000 penalty against any entity operating TikTok or providing the download of its app within Montana's territorial jurisdiction. It also calls for an additional $10,000 per day for the duration of the infraction. However, the law excludes users of the platform, law enforcement agencies, and any activities related to national security "activities" and "interests."
The House narrowly rejected an amendment proposed by Rep. Katie Sullivan (D-District 89), broadening the bill to apply to any social media platform that transfers or sells user data to a foreign adversary.
Sullivan told the Daily Montanan that lawmakers should pass a bill protecting residents' privacy from more than one company operating out of "just one country." She also said that SB419 violated a Montana Constitution prohibition against passing a "special or local act" against an entity when a broader one is available.
NBC Montana reporter Josh Margolis posted a statement from TikTok's communication team on his Twitter account indicating the platform intends to take legal action to prevent enforcement of the proposed law.
Statement from TikTok's comms team on the legislation #mtnews #mtleg #mtpol pic.twitter.com/O2ZlBxg5Aq

— Josh Margolis (@JoshMNBCMT) April 14, 2023
TikTok officials claimed supporters of the proposed law "admitted they have no feasible plan" for enforcing the "attempt to censor America voices." They also vowed to continue to fight for the First Amendment rights of Montana's TikTok users and creators.
Copyright 2023, RepublicanPress.org