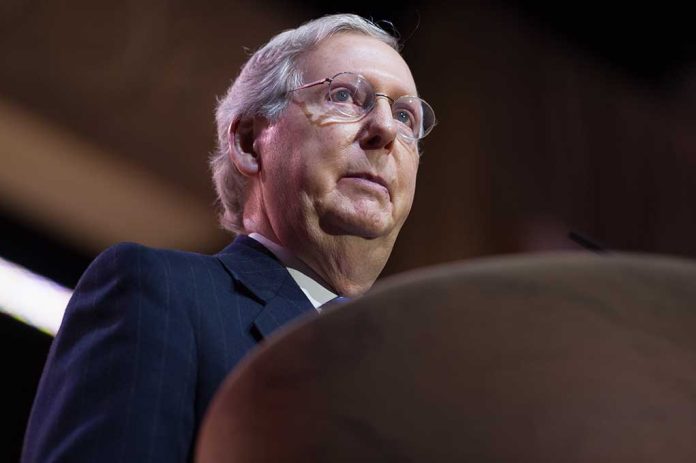 (RepublicanPress.org) – In every part of the population in the United States and the rest of the world, accidents happen. The World Health Organization (WHO) reported in the spring of 2021 that an average of over 37 million falls that require medical attention happen every year around the globe. People over 60 years old suffer more accidental falls than the rest of the population. That's what happened to one of the most powerful lawmakers on Capitol Hill.
On March 9, The New York Times stated Senate Minority Leader Mitch McConnell (R-KY) "tripped at a dinner event" the night before. The legislator was attending a fund-raising event at the Waldorf Astoria hotel in Washington, DC when the accident occurred. His stumble ended in a fall, landing him in the hospital.
Longtime Senate Republican leader Mitch McConnell was taken to a Washington, D.C. hospital Wednesday night after suffering a fall during a private dinner at a hotel, according to a spokesperson.

His condition is unknown. pic.twitter.com/IhlGGpOrse

— CBS Mornings (@CBSMornings) March 9, 2023
The Hill reported McConnell was to spend a few days in the hospital so doctors could treat him for a concussion. The outlet didn't specify the seriousness of the injury, but concussions are most commonly caused by falls. The effects of the brain injury are normally temporary but can affect concentration, memory, and coordination. The Mayo Clinic states that most people with the affliction fully recover.
McConnell's current stumble is not the first time he's suffered an injury from a fall. In August 2019, the Kentucky politician tripped outside on his patio at home and fractured his shoulder. According to the press release, doctors treated his injury, and he spent some time working from home to recover. The NYT pointed to the senator's slight limp for his multiple tumbles over the years. He reportedly developed the limp after a bout with polio as a child.
The Senate minority leader isn't the only senator missing from the Upper Chamber lately. In mid-February, Senator John Fetterman (D-PA) checked himself into Walter Reed National Military Medical Center to seek inpatient treatment for clinical depression. In addition, doctors recently admitted Senator Dianne Feinstein (D-CA) for shingles treatment. She is currently recovering at home.
Copyright 2023, RepublicanPress.org