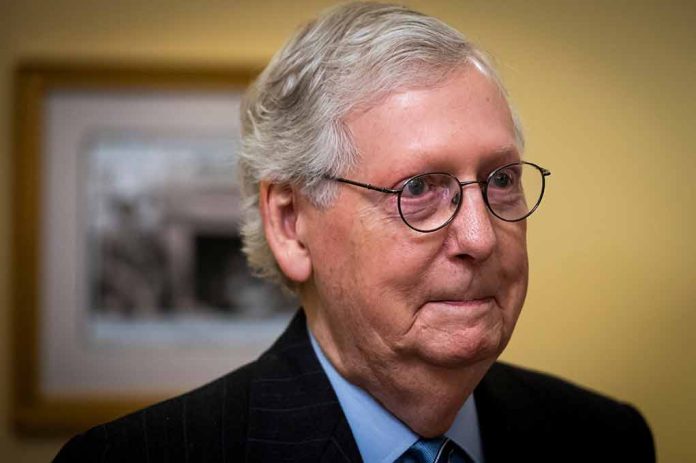 (RepublicanPress.org) – Recently, Senate Minority Leader Mitch McConnell (R-KY) suffered an incident while speaking with reporters at the US Capitol Building. The long-time politician froze for about 20 seconds, and his eyes glazed over, startling those present at the press conference as well as the American people watching the events unfold. McConnell hasn't revealed what happened to him that day, but citizens responded to the incident by calling for term limits on politicians in general and McConnell's retirement, specifically.
On August 5, the Kentucky senator was on stage getting ready to speak to a crowd in his home state at the 143rd annual Fancy Farm Picnic when many members of the crowd shouted at him to retire while others booed the 81-year-old. Throughout his five-minute speech, the event attendees continued their jeers and calls for his retirement, but McConnell didn't relent. Instead, he continued delivering his comments, encouraging constituents in the audience to "vote Republican" in the upcoming gubernatorial race in November.
Mitch McConnell is booed, and drowned out by chants of "retire, retire, retire", for five minutes straight as he tries to talk to his own constituents in Kentucky. pic.twitter.com/zyZIHLJaoy

— Mike Sington (@MikeSington) August 7, 2023
American Military News shared social media posts from several people who commented on what happened. One said it's one reason they love the state, and another agreed with the crowd saying it was indeed time for McConnell to leave the Senate.
But not everyone feels that way. NBC News reported after the senator froze up in front of reporters that House Leader Kevin McCarthy (R-CA) said there were "no concerns" about McConnell's health. Reports indicate that Senator John Cornyn (R-TX) also seemed fine with the Kentucky senator continuing to serve in the Upper Chamber, stating McConnell is "as sharp as he ever was."
McConnell has given no indication that he plans to retire. His current term doesn't end until 2027.
Copyright 2023, RepublicanPress.org