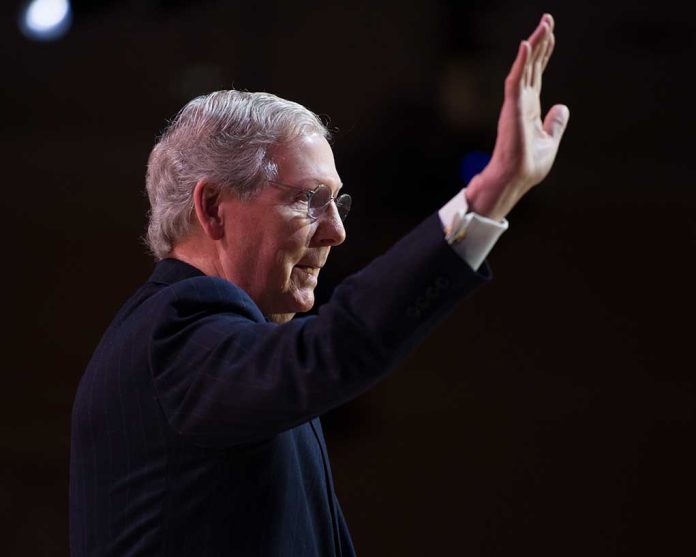 (RepublicanPress.org) – In early March, Senate Minority Leader Mitch McConnell (R-KY) fell while attending a private dinner at the Waldorf Astoria in Washington, DC. The 81-year-old politician spent about a week in the hospital, receiving treatment for a concussion and a broken rib. He then entered an inpatient rehabilitation center to receive physical therapy before returning to his home in Kentucky. More than a month later, he's finally back at work.
On April 13, McConnell announced he was heading back to work the following Monday, April 17. He said he was ready to resume "important business." The Republican Senate leader said he intended to fight for his constituents and Americans upon his return..
I am looking forward to returning to the Senate on Monday. We've got important business to tackle and big fights to win for Kentuckians and the American people.

— Leader McConnell (@LeaderMcConnell) April 13, 2023
McConnell's return to the Senate comes at a critical time. The chamber will soon begin debating on the debt ceiling, which could lead to a government shutdown if no agreement is reached. The battle is expected to be intense as lawmakers try to hammer out a plan to avoid an economic catastrophe.
Several lawmakers on both sides of the aisle have been out in recent weeks, making it that much harder for either side to get a majority while voting. Democrats are currently pressuring Senator Diane Feinstein (D-CA) to resign because she's been on leave for several weeks due to a fight with shingles. Without her on Capitol Hill, President Joe Biden's judicial nominees are languishing in committee.
McConnell's return also came amid rumors that he might be considering retirement. On April 13, The Spectator World published a report alleging Republican Senators John Cornyn (TX), John Thune (SD), and John Barrasso (WY) were making moves to gather support for a possible leadership vote if the Kentucky senator announced his retirement. However, the minority leader's return to the upper chamber seems to have thrown cold water on those moves.
Copyright 2023, RepublicanPress.org