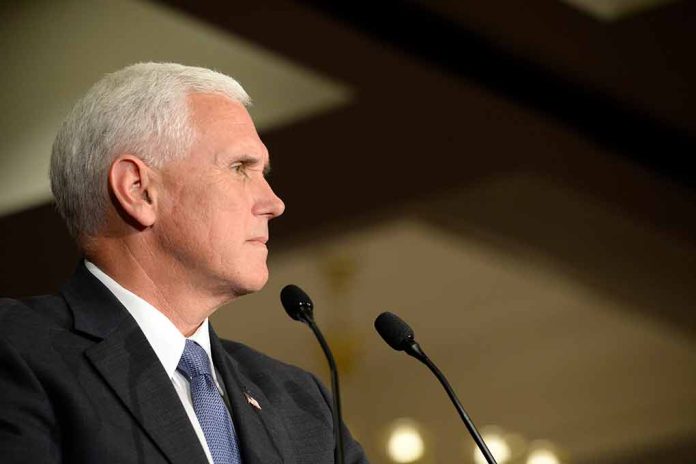 (RepublicanPress.org) – Former Vice President Mike Pence announced his bid for the Republican presidential nomination on June 7. Questions quickly arose regarding his ability to meet the Republican National Committee's (RNC's) criteria to participate in the party's first debate in Milwaukee on August 23. He had no problem meeting the polling requirement but didn't immediately start receiving donations. However, his campaign recently announced that he met the donor threshold.
On August 7, Fox News was the first media outlet to report that Pence reached the donor threshold necessary to qualify for the Milwaukee debate. A couple of hours later, the former vice president's campaign, Team Pence 2024, publicly announced his qualification for the debate on its X page, along with a link to the Fox News article.
Mike Pence qualifies for first GOP debate https://t.co/TTjfk1wZB8

— POLITICO (@politico) August 8, 2023
According to Fox News, Pence campaign spokesperson Devin O'Malley issued a statement advising that the former vice president "made quick and easy work of the donor threshold" and confirmed that Pence looked forward to debating "important" issues with the other candidates.
O'Malley also took a jab at the Republican front-runner, stating that "Hopefully… Trump has the courage" to appear on the stage with Pence and the other seven GOP hopefuls who qualified for the Milwaukee debate.
The other seven qualifying participants include Trump and former governors Doug Burgum (SD), Chris Christie (NJ), Ron DeSantis (FL), and Nikki Haley (SC). Likewise, Sen. Tim Scott (SC) and best-selling author and entrepreneur Vivek Ramaswamy met the criteria.
The Republican National Committee announced the date and criteria for its first debate on June 2. The requirements were grouped into four areas.
Candidate Status: Individuals must meet the requirements to run for president and have active Federal Election Committee forms on file identifying themselves as candidates and designating their main campaign committee.
Polling: Candidates must poll a minimum of 1% in three national polls or 1% in two national polls and one "early state poll" from two "carve-out states," which include South Carolina, Nevada, New Hampshire, and Iowa.
Fundraising: Qualifying candidates must have at least 40,000 unique donors to their primary campaign committee and a minimum of 200 donors in 20+ US states or territories.
Pledge: Candidates must sign pledges agreeing not to participate in debates not sanctioned by the RNC, to share data, and to support the eventual Republican nominee.
Recent reports indicate the RNC is increasing the thresholds for its second debate, scheduled to take place in Simi Valley, California, on September 27.
Copyright 2023, RepublicanPress.org