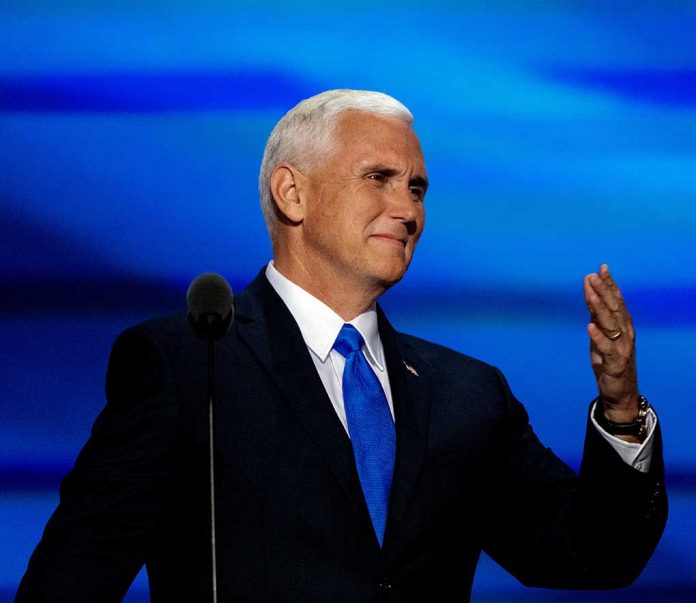 (RepublicanPress.org) – Former Vice President Mike Pence has been traveling the country giving speeches, prompting buzz in the media that he may launch a 2024 bid for the Oval Office. For instance, he recently spoke at the annual white-tie dinner hosted by The Gridiron Club, one of the nation's most prestigious invite-only groups for prominent journalists and Washington DC bureau chiefs.
The Atlantic recently reported that Pence is in a "Trump Trap" these days. People who support former President Donald Trump say Pence isn't enough like him, and opponents say he's too similar to Trump. As a result, he has spent a lot of time on the road, with reports suggesting that he is attempting to distance himself from his former boss.
At the same time, Pence has spoken out on a number of key talking points for Republicans. Most recently, Pence spoke out about the need for changes in government-sponsored financial initiatives which comprise the nation's so-called social safety net.
Mike Pence Calls for Reforms to the Country's Entitlement Programs
On Tuesday, March 21, Pence spoke to a group of college students at Washington and Lee University, a liberal arts college in Lexington, Virginia. The former vice president touched on a wide range of topics, including what he argues is the need for reforms to several of the nation's entitlement programs.
Pence discussed the need for "common sense and compassionate solutions" to America's government-sponsored social safety nets to address the country's rising debt burden. Drilling down on the problem, he suggested changing the Medicare and Social Security programs.
As Pence explained, both programs are heading towards insolvency in the future, making the programs' sustainability for younger generations questionable. However, he only spoke broadly about the need for reforms to those two programs instead of offering specific recommendations.
The former vice president's remarks raised more than a few eyebrows among politicos and campaign watchers. As the Associated Press recently reported, possible changes to Social Security and Medicare have become a highly divisive issue among Republican presidential hopefuls as the nation hurtles toward the 2024 presidential race. Likewise, Democrats, including President Joe Biden, have recently accused many Republicans of trying to sunset programs like Social Security and Medicare.
Local ABC-affiliated station WSET-TV reported that students reacted positively to Pence's speech. Freshman Marshall Wilt said he waited over an hour and a half to get a ticket to see the "historic" address. Sophomore Palmer Van Tuyl said he agreed with Pence's take on the issues, telling WSET-TV that the country would have to grapple with entitlement reform "in the years to come."
Copyright 2023, RepublicanPress.org