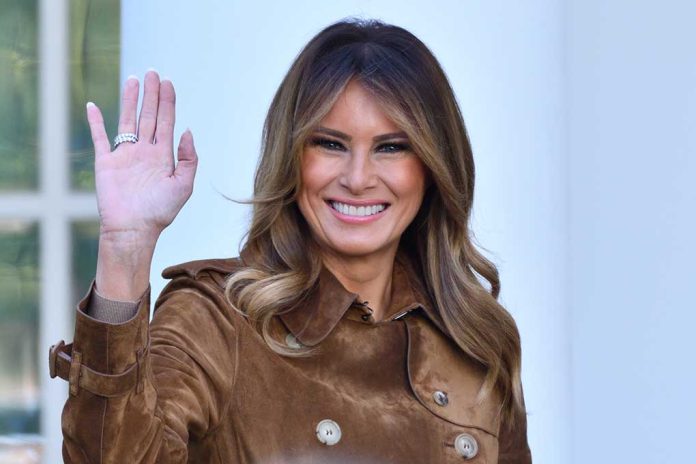 (RepublicanPress.org) – A Manhattan grand jury voted to indict former President Donald Trump with 34 felony counts of falsifying business records in the first degree last month. On April 4, he was arrested and arraigned in his hometown. The former POTUS was accompanied by his Secret Service detail and his lawyers when he pleaded "not guilty" to all counts. However, one person was missing from his side — his wife, Melania. According to PEOPLE, sources said the former first lady was "angry" about the alleged hush-money payments, making it understandable that she didn't accompany him to Manhattan. She has stayed silent on the matter — until now.
On April 11, the former first lady finally broke her silence about the matter, through her office. In a statement posted to Twitter, a spokesperson said that news sources made assumptions about her stance on matters that are "personal, professional, and political." The office didn't mention Trump's indictment and subsequent arrest but cautioned the public to be wary of any stories that don't cite Mrs. Trump as a source.
News organizations have made assumptions about the former First Lady's stance on subjects that are personal, professional, and political over the past few weeks. In these articles, unnamed sources are cited to bolster the author's claims.

— Office of Melania Trump (@OfficeofMelania) April 11, 2023
Melania Trump herself had not said anything on Twitter since March 8, when she posted about International Women's Day. The former first lady broke that silence on April 9, posting a close-up picture of a pink rose with a simple message: "Happy Easter!"
Happy Easter! pic.twitter.com/QS0nZuu9Fr

— MELANIA TRUMP (@MELANIATRUMP) April 9, 2023
Melania Trump staying out of the spotlight is nothing new. She is a notoriously private person, even when she was in the White House. Her number one priority was always raising their son, Barron. She has remained out of the public eye almost entirely in the last two years. The former first lady and president have been married for almost 20 years. Neither one of them have ever indicated they intend to make any changes on that front.
Former President Trump is due back in court for an in-person hearing on December 4. It's unclear whether or not his wife will accompany him on the trip.
Copyright 2023, RepublicanPress.org