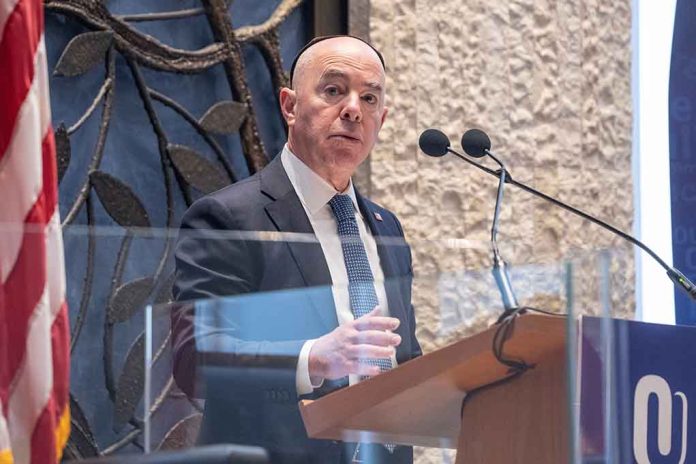 (RepublicanPress.org) – President Joe Biden recently proposed expanding his predecessor's use of Title 42 to expel migrants at the nation's southern border. However, facing upcoming litigation in the US Supreme Court, the Justice Department officials filed brief advising justices the program will end in May. Homeland Security Secretary Alejandro Mayorkas recently addressed congressional concerns, admitting that he expects a surge of migrants at the border once the policy ends.
On April 18, Mayorkas testified before the Senate's Homeland Security and Governmental Affairs Committee about the ramifications of ending Title 42 enforcement. He readily conceded that administration officials anticipated "a surge in the number of [border] encounters" after the termination of the policy.
6.3+ MILLION illegal immigrants have crossed Biden's open border since he took office — and DHS Secretary Alejandro Mayorkas says they "anticipate a SURGE" in illegal immigration once Title 42 ends in May pic.twitter.com/43KFrxk8hW

— RNC Research (@RNCResearch) April 18, 2023
Although Mayorkas admitted the end of the policy of quickly departing migrants would boost border encounters, he didn't provide an estimate of the number of impacted immigrants. According to The New York Post, he didn't push back when a senator suggested the number of individuals allowed into the country could double to more than 10,000 per day.
The use of Title 42 to prevent the introduction of infectious diseases into the country was tethered to former President Donald Trump's invocation of a public health emergency in 2020. At the end of January, the Biden administration announced that it would allow the emergency order to expire on May 11, eliminating the continued use of Title 42 to expel migrants.
Continued enforcement of Title 42 became the subject of multiple court orders. A federal judge recently held that the current policies surrounding the statute's use were "arbitrary and capricious."
The attorneys general of 19 Republican-led states attempted to intervene by filing an emergency appeal in the Supreme Court. However, the DOJ filed a response claiming the petition was moot since enforcement of Title 42 ends in May, effectively shutting down their claims.
It remains unclear how the Supreme Court will rule on the matter.
Copyright 2023, RepublicanPress.org