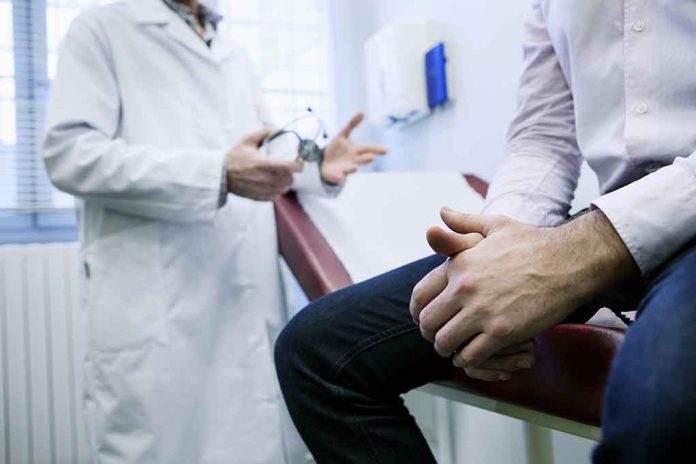 Senator HOSPITALIZED – It Was A Medical Emergency!
(RepublicanPress.org) – Sen. Christopher Van Hollen (D-MD) quickly rose to prominence in the Democratic Party. He started serving in the House in 2003, eventually becoming assistant to House Speaker Nancy Pelosi (D-CA). In 2017, Van Hollen replaced retiring Sen. Barbara Mikulski (D-MD) after defeating his Republican opponent in the 2016 general election. He recently reported that he suffered a stroke while delivering a speech in Western Maryland.
On Sunday, May 15, Van Hollen posted a statement announcing he "sought medical attention" after "experiencing lightheadedness and acute neck pain" while delivering his speech. Medical workers at nearby George Washington University Hospital confirmed he suffered a minor stroke due to a small tear in a blood vessel at the back of his head.
This weekend, after feeling lightheaded while delivering a speech, I sought medical attention at the recommendation of the Attending Physician. I'm feeling much better but will follow doctors' orders and curtail my schedule for the next few days. My full statement is below: pic.twitter.com/1sYq7FZMqS

— Senator Chris Van Hollen (@ChrisVanHollen) May 16, 2022
Van Hollen confirmed that hospital personnel told him they didn't detect any long-term damage from the incident. However, his doctors advised him to remain in the hospital for a few days for observation as a precautionary measure.
Van Hollen wasn't the only Democrat struck by a vascular event over the weekend. On Sunday, US Senate candidate and Pennsylvania's Lt. Gov. John Fetterman (D) released a short video announcing that he, too, suffered a stroke on Friday due to a blood clot.
On Friday, I wasn't feeling well, so I went to the hospital to get checked out.

I didn't want to go – I didn't think I had to – but @giselefetterman insisted, and as usual, she was right.

The good news is I'm feeling much better + I'm well on my way to a full recovery. pic.twitter.com/WQ5X6QgQen

— John Fetterman (@JohnFetterman) May 15, 2022
According to the CDC, signs of a stroke include sudden confusion, dizziness, numbness, severe headache, and vision problems in one or both eyes. If you or someone is experiencing any of those symptoms, you should call 911 immediately.
Copyright 2022, RepublicanPress.org