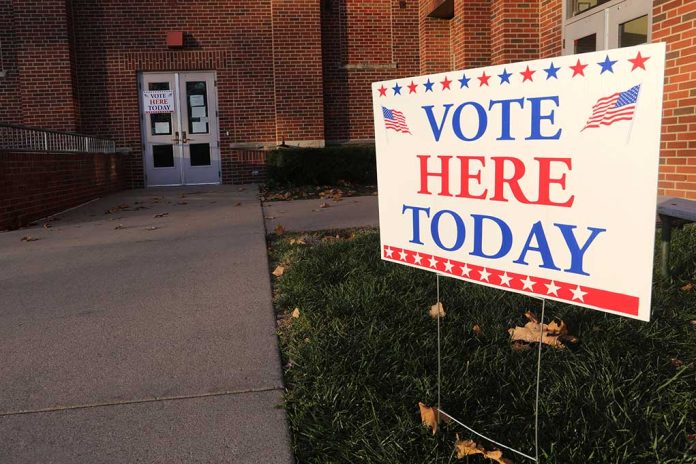 (RepublicanPress.org) – Arizona voters have selected a proportionately large number of federal lawmakers from the Republican Party since it became a state in 1912. Only three Democrats have served the Copper State in the US Senate in the last 50 years: Dennis DeConcini, Kyrsten Sinema, and Mark Kelly.
Sinema is no longer a Democrat, she switched parties after the midterm elections. A Republican is hoping to unseat the senator.
Mark Lamb Announces Campaign
On April 11, Mark Lamb announced his campaign for the US Senate on his Twitter account, writing that as the sheriff of Pinal County, he has "been on the front lines" of the crisis at the nation's southern border.
Lamb also posted a heart-wrenching video that began with a local news station reporting on a fatal collision. About 10 seconds into the clip, he takes over as narrator and explains that he lost his son and one-year-old granddaughter eight days before Christmas in 2022. Arizona law enforcement officials recently filed manslaughter charges against the driver of the vehicle that killed them.
Lamb explained that he will "forever have a hole in [his] heart." He related that he and his wife have prayed and cried a lot and held their other children and grandchildren "just a little bit tighter" since their tragic loss.
The sheriff quickly segued into his experience with America's drug problem, relating that his own son spent time in one of his jail cells for a problem associated with his use of fentanyl. He also talked about his work arresting gang members and drug dealers.
"I know what deadly drugs and the criminals [selling] them are doing to… communities," Lamb explained, adding, "I know what it did to my family."
Lamb spent the rest of the clip discussing his vision for America. For instance, he talked about the importance of electing leaders who aren't "too politically correct to protect us." Lamb also stated that if Washington can send over $100 billion to Ukraine "to defend its borders," the United States can finish building the border wall "and keep our own communities safe."
As Pinal County Sheriff, I have been on the front lines of our border crisis. We need leaders in this country who aren't too politically correct to protect us and that's why I'm running for the United States Senate.

Join the team today! >> https://t.co/HcIPSdPd6z pic.twitter.com/9lImU01yeV

— Mark Lamb for US Senate (@sherifflamb1) April 11, 2023
Trouble For Democrats?
Rep. Ruben Gallego (D-AZ), a prominent Latino lawmaker and former Marine, recently became the first person to officially toss his hat in the ring for Arizona's Class I election in 2024. His announcement guarantees a three-way race in the state if Sinema runs for a second term as expected.
Growing up poor, all I had was the American dream. It kept me going: as a kid sleeping on the floor, a student scrubbing toilets, a Marine losing brothers in Iraq.

Today, too many Arizonans see their dream slipping away. I'm running for the U.S. Senate to win it back for you! pic.twitter.com/ofUvUYRcTP

— Ruben Gallego (@RubenGallego) January 23, 2023
Sinema narrowly defeated her Republican rival, Martha McSally, by only about 2.4% of the vote (1,191,100 to 1,135,200) in 2018. It's possible that Gallego, or whoever wins the Democratic nomination, could split the liberal vote, all but assuring a win for the Republican candidate.
Copyright 2023, RepublicanPress.org