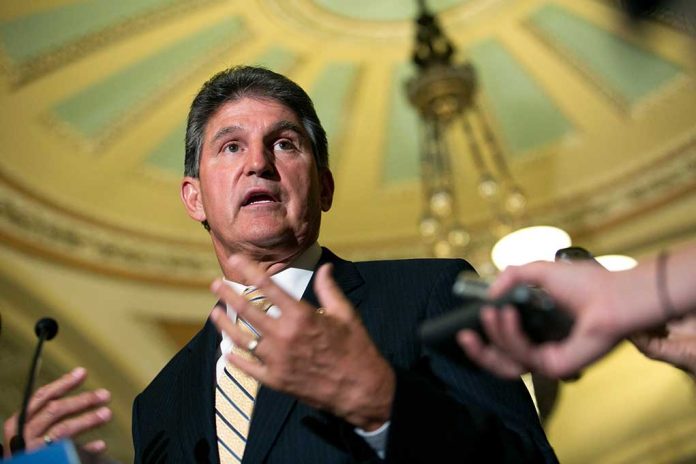 Joe Manchin Suddenly Strikes OUTRAGEOUS Deal With Schumer
(RepublicanPress.org) – For many months, Democrats have been hard-pressed to gain cooperation on many pieces of legislation from Senators Joe Manchin (D-WV) and Kyrsten Sinema (D-AZ), leaving them scrambling to get anything done in Congress. On July 27, at long last, the West Virginia lawmaker seemed to have a change of heart when he and Senate Majority Leader Chuck Schumer (D-NY) announced a surprising agreement.
The Proposed Legislation
Manchin previously stated he would not support an expansive spending package in 2021 when he refused to sign off on President Joe Biden's $3.5 trillion Build Back Better Act. However, he just reportedly made a new deal on a deal with Schumer. While the new measure doesn't come close to that amount in dollars, it still includes billions going toward energy, climate issues, and healthcare, as well as increased taxes for the rich and large businesses.
The Inflation Reduction Act of 2022 earmarks $369 billion for the environment and energy, extends $64 billion in healthcare subsidies for 3 years and incorporates a 15% minimum tax on some corporations. According to the two Democrats, the legislation would "raise $739 billion" over the next decade and allow for more than $300 billion to reduce the government's deficit during the same timeframe. The bill also includes language to reform prescription drug prices and allows for a "solar investment tax credit" extension.
The West Virginia senator stated he supports the agreement because it "provides a responsible path forward." He asked if his fellow colleagues will bypass partisan views to join him and Schumer for the good of the country's future.
Though Manchin changed his mind about cooperating with most Democrats on the spending initiative, there's no guarantee it will go any further. Sinema and others might not back the package. If it does become law, it would happen just in time to give the Left a perceived win prior to the upcoming November midterm elections. Some believe the president's low approval rating and the lack of cohesion in his party would mean a red wave would sweep over the nation in a few months, leading to a change in power. Will this proposal thwart those predictions?
Republican Reactions
Senator Tom Cotton (R-AR) called the piece of legislation a "double cross" in a Fox News interview, saying he doesn't feel it will garner the votes needed to pass. Just hours before, 17 Republicans sided with the Left to vote for the Chips and Sciences Act, which aims to make America more competitive with China in the semiconductor industry. Senator John Kennedy (R-LA) reportedly told Fox News he believes the Democrats used them for the vote and then stabbed them in the back with the new announcement.
Meanwhile, GOP senators voted against the PACT Act. That previously well-supported measure would have provided medical coverage to many veterans suffering the effects of burn pits while fighting for their country.
Do you think the new deal between Schumer and Manchin will pass?
Copyright 2022, RepublicanPress.org