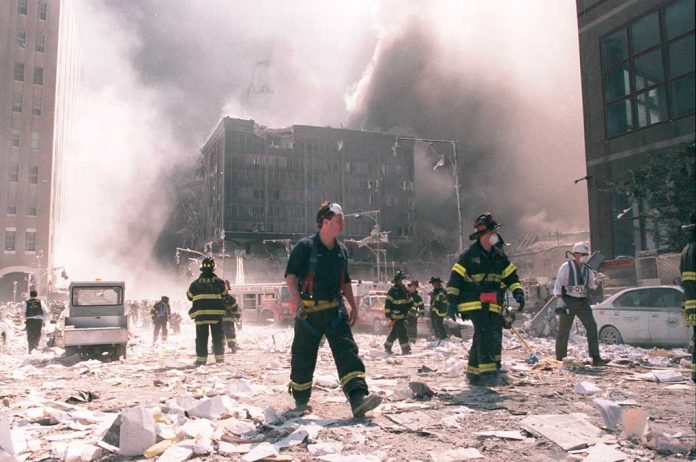 9/11 VICTIM WINS – He Had Proof!
(RepublicanPress.org) – Victims of the 9/11 attacks have faced enormous obstacles in proving their eligibility to receive financial assistance from the congressionally-mandated September 11 Victim Compensation Fund (VCF). Fortunately, one such individual received help from an unlikely source — a decades-old newspaper clipping.
Spencer Cullum is one of the victims who has struggled to collect VCF benefits because he had a hard time proving he was really there. Nine years old on the day of the tragedy, Cullum witnessed the attack with his family while waiting for a ferry to visit the Statue of Liberty. The New York Post reported that he recounted being terrified at the sight of jets impacting both World Trade Center towers, and then being covered in gray dust.
Spencer Cullum told The Post he remembers being a terrified 9-year-old and covered in dust while with his family on vacation in downtown Manhattan when the Twin Towers collapsed after being struck by planes.https://t.co/B98NQY5OPK via @TinaMoorereport

— Bernadette Hogan (@bern_hogan) August 22, 2022
In 2019, Spencer became sick, and doctors diagnosed him with leukemia, according to The New York Post. Hundreds of thousands of dollars in debt, he applied for VCF benefits. The fund rejected his claim because he couldn't establish his presence in New York City on that fateful day.
Unable to provide third-party confirmation outside family members, he remembered appearing in a local newspaper shortly after his family's return to his home in California. Victorville's Daily Press published an article detailing their first-hand experience on 9/11, including a photograph of them with the World Trade Center in the background.
Armed with the newspaper clipping, his attorney got him an undisclosed six-figure settlement in March — enough to build a home.
According to one report from Hansen & Rosasco, the dust cloud that hung in the air after the 9/11 attack contained over 2,500 different contaminants, which later took a toll on many people's health. However, victims have been known to spend years trying to get financial help from the Victim Compensation Fund because of how difficult it is to verify eligibility.
If you or someone you know is a victim of the 9/11 attack in need of assistance, you can visit the VCF website at www.vcf.gov/how-file-claim for information about filing a claim.
Copyright 2022, RepublicanPress.org