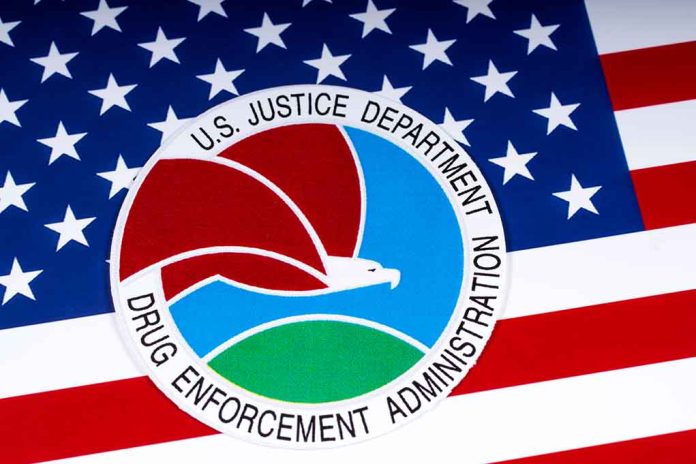 (RepublicanPress.org) – In 2021, Gila River Police Department officers arrested 24-year-old Steve Lugo of Phoenix, Arizona, for possession with intent to distribute a mixture or substance containing fentanyl. The suspect hid the drugs inside a child's shark pillow and was caught with the illegal fentanyl pills and methamphetamine in his possession at the Arizona Mills Mall in Tempe. Police also arrested 20-year-old Rafael Ivan Valenzuela Chairez at the same time, charging him with a similar but lesser crime. Both men were charged with federal crimes and have now received sentences.
On June 1, US District Judge G. Murray Snow sentenced Lugo to 70 months in prison, according to a press release from the DEA. After completing his sentence, the defendant will have five years of supervised release. The perpetrator's co-defendant, Chairez, was sentenced the same day. He received a lighter sentence — 18 months behind bars and three years of supervised release.
The DEA reported the pair had 28 pounds of meth and more than 9,000 fentanyl pills in the back of their vehicle at the time of their arrests. Both suspects pleaded guilty to the charges against them.
According to the DEA, more than 10,000 pounds of powder fentanyl and over 50 million laced pills were seized in the US in 2022. That was more than 379 deadly doses of the drugs. According to new preliminary data from the National Center for Health Statistics (NCHS), the drugs circulating the streets are causing an incredible amount of overdose deaths.
More than 100,000 people died from drug overdoses in 2022. That's the second year in a row that America has surpassed the grim milestone. Fentanyl continues to be one of the driving forces behind the overdoses around the country because it's far more potent than heroin and drug users often don't know it's in the narcotics they are taking. Local, state, and federal officials are trying to tackle the problem, but have been unsuccessful so far.
Copyright 2023, RepublicanPress.org