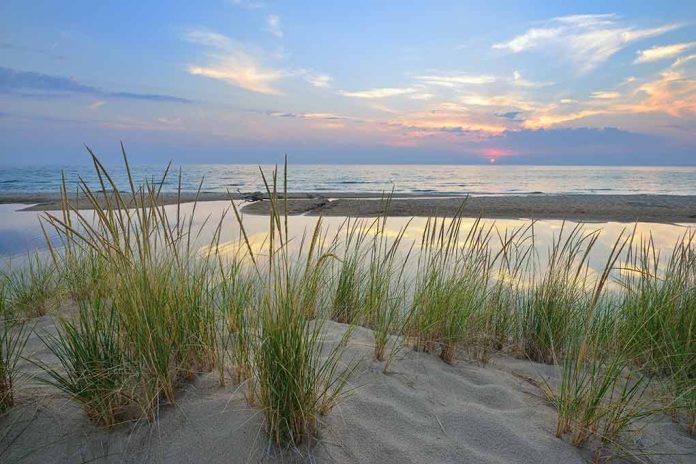 (RepublicanPress.org) – Drowning is one of the country's leading causes of death in children and young adults. The Centers for Disease Control and Prevention reported that an average of roughly 4,000 individuals died annually from unintentional drowning, or 11 per day, over 10 years ending in 2020. More than 8,000 people visited emergency rooms for medical conditions related to non-fatal drowning during that same time frame. Sadly, an Illinois man recently died while trying to help a group of children on Lake Michigan.
Hero Dad Luke Laidley who survived 9/11 terror attacks has tragically died after saving a group of kids from capsized raft on July 4th. Rest In Peace. HERO pic.twitter.com/fJ9lt1bziS

— Secure America Now 🇺🇸 (@SecureAmerica) July 7, 2023
On July 4, local news stations reported that Luke Laidley died after jumping into the water to save children struggling in the water while boating on Lake Michigan. The 43-year-old father of three was towing the kids with his boat near Centennial Park Beach, about 14 miles from Chicago.
According to reports, the children were on a tube and flipped over. A witness from the shore reported that one of the children appeared to struggle to keep afloat, and Laidley jumped into the water to save the child while others called 911. Some outlets reported that more than one child was struggling. Unfortunately, the intense waters of Lake Michigan proved too much for Laidley. Others from the boat pulled him back into the vessel and began CPR.
Emergency rescue workers took over for them once the boat reached shore and transported him to a nearby hospital in serious condition. Medical personnel pronounced his death shortly after his arrival.
Laidley's family issued a statement, noting that he survived the September 11, 2001, terrorist attack on the World Trade Center. They said he later wrote about his escape from Tower Two's 61st floor that day. He encouraged people to "count their blessings" daily, give of themselves, "expect nothing in return," and "become a part of something… greater than yourself."
The family said he lived that philosophy "to the end" when he "risked his life for children who were struggling" in the water. They concluded their remarks by writing that Laidley lived his life with a purpose and to serve others. His was a "life lived as a hero."
Copyright 2023, RepublicanPress.org