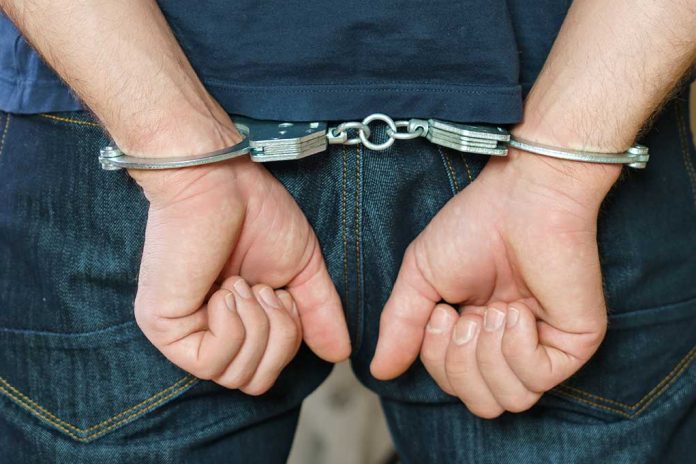 (RepublicanPress.org) – On June 13, former President Donald Trump surrendered to federal authorities in Florida, where they placed him under arrest. A few days earlier, a federal grand jury indicted the ex-president on 37 felony counts related to his alleged mishandling of classified documents. Trump's attorney, Todd Blanche, reportedly entered a plea of not guilty on the defendant's behalf, and the judge released him without bond stating he was a low flight risk.
After his arraignment, Trump was leaving the federal courthouse in Miami when an anti-Trump protester dressed in an old-time prisoner costume walked in front of his motorcade. The man was holding up a sign and only standing in front of the vehicle for a couple of seconds before security shoved him across the street and onto the sidewalk. Footage of the incident showed police taking the man into custody.
According to Fox News, an earlier video showed the man, 61-year-old Dominic Santana, holding up an orange sign that read, "Lock Him Up." USA Today quoted the Miami man as saying he couldn't express the way he feels about his home country of Cuba, but he could show his "disdain for…the US government." Police reportedly arrested the man. According to The Miami Herald, he was released on bond and now may be facing charges.
Videos around the time of the incident showed the sidewalks lined with people either showing their support for the former president or their displeasure about his alleged behavior. Trump's arrest was the second one in a matter of months. Each indictment represents a first in American history. The New York indictment was the first time a former US leader was placed under arrest, and the Florida event was the first time a previous president faced federal criminal charges.
New York City Judge Juan Merchan set Trump's trial date in the Big Apple for March 25, 2024. It's unclear when the federal trial in Miami will begin.
Copyright 2023, RepublicanPress.org