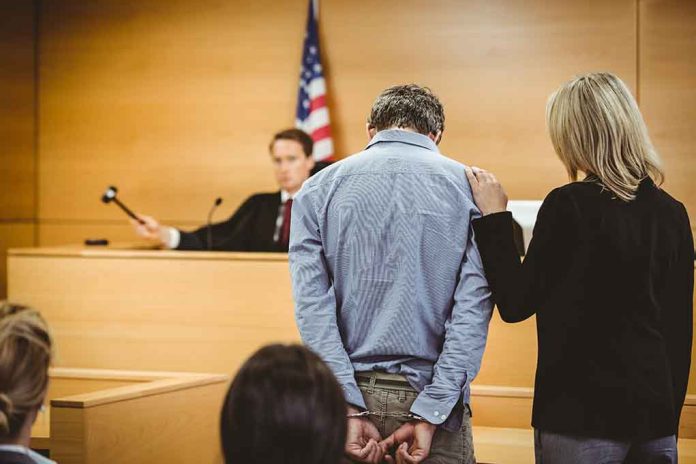 (RepublicanPress.org) – The US Constitution's First Amendment states, in part, that there should be no law in America prohibiting free speech. However, that right is not absolute. Exceptions to free speech include incitement, defamation, and threats. If a US citizen engages in such content, they could face legal consequences. In the age of technology, those exceptions extend to the internet, meaning persons who engage in such conduct online will likely suffer the same fate as those who violate the rules in person.
On May 23, the Department of Justice shared a press release stating a criminal indictment against Tyler Jay Marshall of Enid, Oklahoma, was unsealed. The complaint said authorities charged the suspect with transmitting a threat in interstate commerce. In mid-May, the FBI was alerted that Marshall allegedly threatened to kill several politicians on Twitter. The officials reportedly receiving the threats included Florida Governor Ron DeSantis (R), Senator Ted Cruz (R-TX), and Governors Kevin Stitt (R-OK) and Sarah Huckabee Sanders (R-AR).
Marshall allegedly responded to a Mother's Day tweet by Stitt, stating he was planning to bring guns to the governor's events and threatened to shoot everyone in the pictures Stitt shared. The suspect is also accused of responding to DeSantis' call against diversity, equity, and inclusiveness (DEI) programs, by stating he would see the governor "dead in [his] home." Further, Marshall reportedly threatened to "shoot" Cruz and "murder" Sanders.
The suspect allegedly told police he opened the Twitter account specifically to troll politicians, claiming he was drunk when he started the account with the email address gopshoulddiesoon at gmail dot com.
Authorities arrested Marshall on May 19, and he's currently being held in custody. If found guilty, the defendant could spend up to five years in federal prison, a $250,000 fine, and another fee of $100. The courts would also require him to spend three years on supervised release.
Copyright 2023, RepublicanPress.org