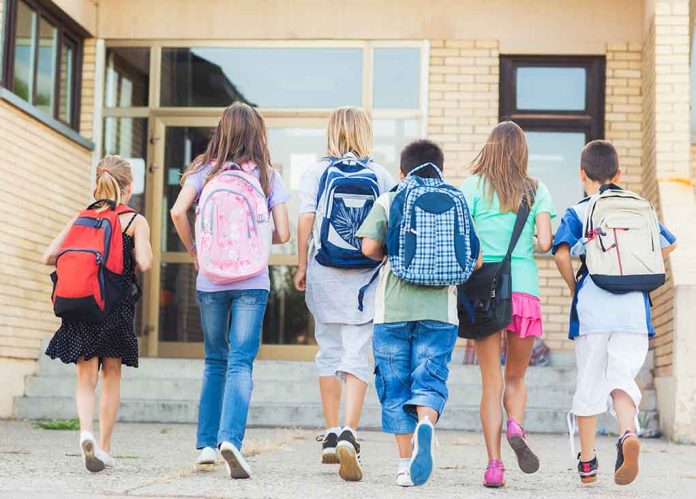 (RepublicanPress.org) – Lawmakers and parents alike have called for stricter measures to secure the nation's public schools in the wake of mass shootings. However, a Portland, Maine, community recently learned that there may be other reasons to better secure educational facilities than preventing the introduction of firearms.
On Tuesday, May 16, the Portland Police Department issued a brief press release detailing the recent arrest of 43-year-old Jacob Horwitch. Police officers were dispatched to King Middle School at 8:48 a.m. the previous day after the school reported that a suspicious man had entered the facility without authorization. School officials directed the officers to a park across the street from the school, where they took the suspect into custody.
A further investigation revealed that Horwitch entered a girl's restroom at the school, approached a female student, and offered her an unknown quantity of hypodermic needles.
#DEVELOPING: Police say a man entered a Portland middle school, went into the girl's bathroom, and then offered a student hypodermic needles. https://t.co/aC8d70VWFG

— CBS 13 News (@WGME) May 16, 2023
The Portland Public School District issued a statement confirming that Horwitch entered the school through a door that was left open. The suspect reportedly exited the building through a side door. The notice also advised that officials were updating the school's security measures to prevent a similar incident from occurring.
Family members of students and community members expressed concern regarding the incident and Horwitch's strange offer to the student, according to a report from Fox 23. For instance, Beth McKeen, a pupil's relative, wondered how someone like Horowitch could enter the school. She noted that parents usually aren't allowed to accompany students. Portland resident Jeremy Hamilton wanted to know the plan "going forward."
Local ABC-affiliated television station WMTW reported that Horwitch made his first court appearance on Wednesday. The judge set his bail at $200 and restricted him from possessing drugs or alcohol. The judge also barred him from coming within 1,000 feet of King Middle School, and he's not allowed on any public or private school property. Horowitch faces three misdemeanor charges, including resisting arrest, violation of privacy, and criminal trespass.
Copyright 2023, RepublicanPress.org