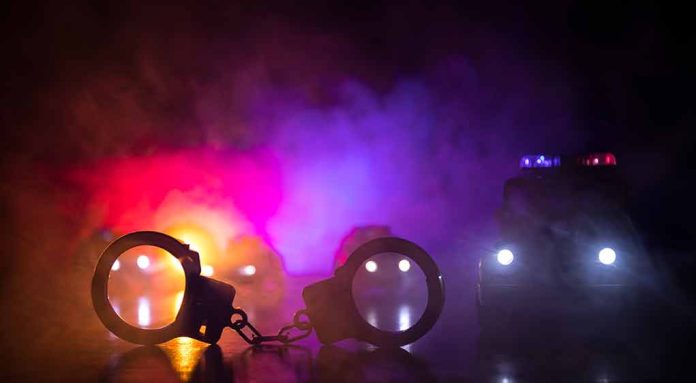 (RepublicanPress.org) – Media outlets are filled with news reports detailing the arrest of individuals for making threats against politicians, government officials and agencies, and various groups. A recent news report discussed an incident involving a man who allegedly threatened members of a Virginia church.
On September 25, the Prince William County Police Department (PWCPD) announced the arrest of 35-year-old Rui Jiang. In an unusual twist, the criminal investigation leading to his arrest involved a chain of events handled by the PWCPD and two other law enforcement agencies in the Greater Washington, DC, metropolitan area.
*FOR IMMEDIATE RELEASE: #PWCPD, in coordination with @FairfaxCountyPD & @AACOPD, arrested a 35-year-old man in connection to a potential threat of violence at a church in #Haymarket. Through the quick response of the agencies invovled & church staff, the suspect was apprehended. pic.twitter.com/dnpu8omjZI

— Prince William County Police Department (@PWCPolice) September 25, 2023
Maryland's Anne Arundel County Police Department (AACPD) contacted the nearby Fairfax County PD (FCPD) about a report it received from a citizen in Laurel, Maryland, a city located midway between the District of Columbia and Baltimore.
The unnamed individual reported they observed worrying posts on an Instagram account, later identified as belonging to Jiang. Some included "vague threats" and photographs of the Park Valley Church on 4500 Waverly Farm Drive in Haymarket, Virginia.
AACPD investigators found a possible address for the suspect in Fairfax County and forwarded the information to the FCPD. Officers went to the residence but were unable to locate Jiang.
Law enforcement officials working on the joint investigation uncovered information regarding a vehicle registered in Jiang's name. The AACPD and FCPD sent the information to the PWCPD along with a request for them to send an officer to check the church.
Officials with the PWCPD quickly dispatched an off-duty, uniformed police officer whose regular work detail included the Park Valley Church. He located Jiang's unoccupied vehicle in the church's parking. The off-duty officer and church officials detained Jiang near the church's front entrance without incident. A search of the suspect uncovered a loaded handgun, an extra ammunition magazine, and two knives. PWCPD officers subsequently placed the suspect under arrest.
Jiang faces criminal charges related to carrying a dangerous weapon to a place of worship and making threats of bodily harm. Prince William County officials are currently detaining him without a bond. His next court date is pending.
#WorshipWatch proactive program is designed for members of a church, synagogue, mosque or temple.
It's intended to encourage Houses of Worship to become more involved in reducing the opportunity for crimes to occur on their premises.
Call #PWCPD #CrimePrevention Unit for info. pic.twitter.com/KyvDwppwF1

— Prince William County Police Department (@PWCPolice) September 25, 2023
Shortly after Jiang's arrest, the PWCPD posted a statement detailing Worship Watch, a proactive program intended to encourage members of a house of worship to work with police officials to reduce the opportunity for crimes at their locations.
Copyright 2023, RepublicanPress.org