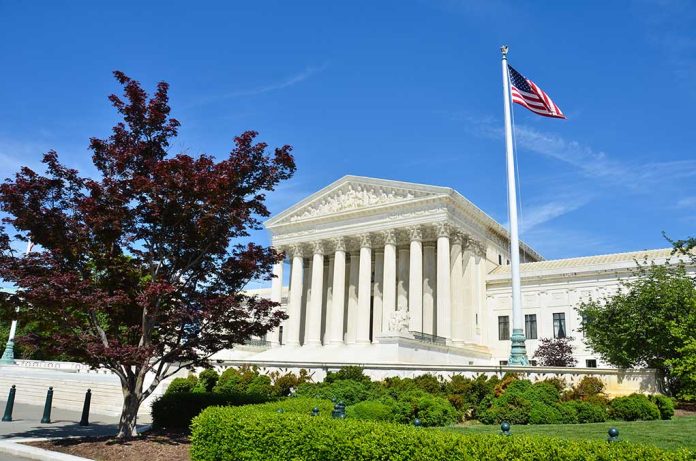 SCOTUS Orders Decision on Gun Law To Be Overruled
(RepublicanPress.org) – Massachusetts has a state law that imposes a lifetime handgun purchasing ban on anyone convicted of a non-violent misdemeanor that involves a gun. The Morin v. Lyver case challenged that law, but the US District Court of Massachusetts ruled the statute constitutional. The appeals court agreed, causing the plaintiffs to appeal the issue to the Supreme Court.
On October 3, on its first day of the new session, SCOTUS vacated the lower court's ruling and sent it back for reconsideration. The justices pointed to the 2022 New York State Rifle & Pistol Association v. Bruen precedent, where the high court struck down a law requiring citizens to show cause for approval of a concealed carry permit.
Massachusetts law places needed restrictions on the possession and purchase of firearms, including the ability to obtain a license to possess handguns.#SCOTUS's conservative majority vacated the lower court ruling that found the law constitutional. https://t.co/SdEFDDD4U1

— AFJ Action Campaign (@AFJAction) October 6, 2022
The case will now return to the First Circuit Court of Appeals. The SCOTUS justices did not include a vote tally on the matter but wrote a simple paragraph relaying its message.
The Firearms Policy Coalition (FPC) released a statement about the issue earlier this year, announcing it filed with the Supreme Court, asking them to review the lower judicial body's decision. The organization pointed out there was no "tradition of limiting" the right to bear arms for non-violent convicts. The FPC surmised that laws support the offenders' Second Amendment rights.
What do you think will be the final decision in this case?
Copyright 2022, RepublicanPress.org