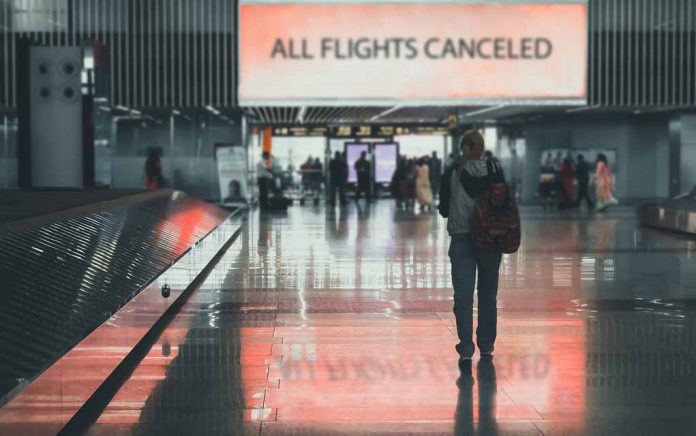 (RepublicanPress.org) – In January, the Federal Aviation Administration grounded all domestic flights for hours due to an issue with the Notice to Air Missions (NOTAM) system. The communication medium is essential to air travel safety because it gives flight personnel real-time information, alerting them to anything abnormal with the National Airspace System (NAS). NOTAM failed due to human error, and although the issue was identified and quickly corrected, it highlights a problem that Congress feels the need to address.
On February 7, legislators held a hearing to discuss aviation safety concerns along with the recent set of circumstances that resulted in several airlines canceling or delaying thousands of flights, leaving many stranded over the December holidays. According to The Hill, lawmakers are worried about air travel safety and are afraid the recent problems will harm the industry.
Congress kicks off probes into airline meltdowns https://t.co/gHAOQENyed pic.twitter.com/OABEGDPrne

— The Hill (@thehill) February 7, 2023
Chairman of the House Transportation and Infrastructure Committee, Rep. Sam Graves (R-MO), stated that the US aviation system needs "urgent attention," according to The Hill. With more people seeking flight travel after a lull in recent years, it's more important than ever to ensure that Americans stay safe in the air. Rep. Rick Larsen (D-WA) echoed that sentiment, adding that NOTAM is no longer state-of-the-art and desperately needs a system update. However, that takes money. The FAA recently announced it is in the process of modernizing the notification system.
The flight agency noted its progress in rectifying the situation so far, but The Hill reported the FAA's budget hasn't changed since 2009 — not even for inflation. As such, the Department of Transportation is asking for over $29 million in additional funding this year to upgrade the system.
Rep. Pete Stauber (R-MN) recently introduced the NOTAM Improvement Act of 2023, which calls for the formation of a task force to evaluate the NOTAM system and provide a list of recommendations for improvement. The measure passed the House on January 25 with bipartisan support. Senators also signaled they would soon look into issues plaguing the airline industry.
The Senate Commerce Committee held its own hearing on February 9, where Southwest Airlines testified regarding the travel complications in December.
Copyright 2023, RepublicanPress.org