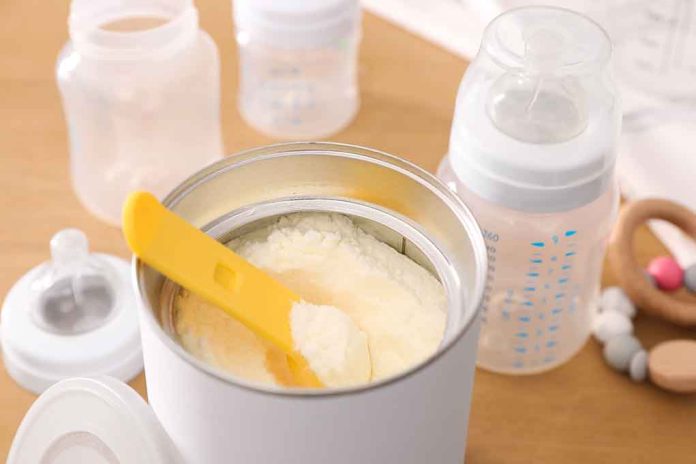 (RepublicanPress.org) – The House Oversight Committee's health care and financial services panel held its first hearing into the US Food and Drug Administration's (FDA's) oversight of the nation's baby formula industry. The subcommittee's chair, Lisa McClain (R-MI), provided context for the hearing during her opening statement.
McClain explained that although the FDA is responsible for monitoring the safety of 78% of the nation's food supply, the agency wasn't properly prioritizing that mission. Instead, the FDA reportedly used a host of excuses for its negligence.
Turning her attention to the baby formula industry, McClain detailed the events surrounding supply-side issues that led to a nationwide shortage in 2022. Toward the end of 2021, a whistleblower from Abbot Laboratories filed a lengthy complaint with the FDA regarding irregularities at the company's Sturgis, Michigan facility. That plant produces roughly 20% of the US supply of baby formula.
Nevertheless, the FDA didn't inspect the plant until the end of January 2022 in the wake of consumer complaints regarding four infants who contracted rare bacterial infections after consuming formula produced at the Sturgis facility. Abbott Laboratories subsequently issued a voluntary recall on powder formulas, including Alimentum, EleCare, and Similac.
McClain concluded her remarks on a grim note, accusing the Biden administration of failing to prepare for the plant closure or take steps to prevent a baby formula shortage. "Americans are tired of the excuses," she said, adding, "Americans want accountability."
Former FDA Official Declares Baby Formula Crisis "A Preventable Tragedy"
The House Subcommittee on Health Care and Financial Services issued a brief synopsis of the hearing, detailing the testimony of Frank Yianna, the FDA's former deputy commissioner. Panel members grilled him about the agency's failure to respond promptly to the whistleblower's complaint and "take ownership" of the baby formula crisis.
Yiannas readily conceded that had the FDA begun an official inspection of Abbott Labs' Sturgis plant sooner, the crisis "could have been averted, or at least, the magnitude lessened." In a stunning move, he also said that the infant illnesses and deaths due to bacterial infection were a "preventable tragedy."
The former FDA official also warned that the current state of the baby formula industry isn't significantly different now than when the crisis first started appearing in later 2021. According to him, the public health systems for detecting the pathogen that impacted the infants "remains insufficient." Yiannas also said that adequate safeguards were not implemented to "prevent future illnesses," and the baby food supply chain "continues to lack… resiliency."
"In other words," he concluded, the country is "one outbreak, one tornado, flood, or cyberattack away" from another baby formula crisis.
Subcommittee Republicans vowed to hold the FDA accountable for its neglect and find ways to prevent similar crises from occurring in the future.
Copyright 2023, RepublicanPress.org