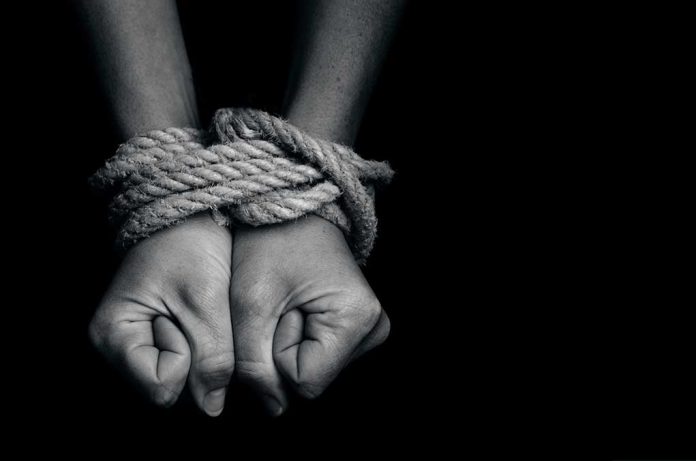 Mother, Children Rescued After Allegedly Getting Kidnapped by Man With Knife
(RepublicanPress.org) – Justin Junius Carter of Las Vegas is accused of trying to stab his ex-girlfriend before kidnapping her and her three children. Authorities say the man drove the family to Mesquite when the frightened mother took a brave step to call out for help.
On October 17, just a short time after midnight, the woman dialed 911 from inside the vehicle, creating an open line between her and the dispatcher. Most reports say the mother did her best to speak in a way that would alert the dispatch to what was going on without having to speak to them directly. However, at least one report claimed police said she did speak directly to the dispatcher at one point. Police identified the victims' location, stopped the car, and saved the family.
Las Vegas man arrested, suspected of kidnapping woman, 3 kids. Justin Carter is accused of trying to stab a woman and kidnapping her and her three children at knifepoint, the Mesquite Police Department said. https://t.co/dVruZiALTR 👉William Nash ☎️702-389-7181 💼S.019637

— William Nash at Exp Realty, License S.0196378 (@grumpy_bear_re) October 13, 2022
The Mesquite Police Department said the woman was unable to reveal too much about her predicament, but the trained dispatcher knew exactly what to do. Officers arrested Carter on the spot for multiple charges including but not limited to kidnapping, violating a restraining order, domestic battery using a weapon, and attempted murder.
According to news outlets, Mesquite Police Chief MaQuade Chesley commended the woman and her children for remaining calm and reaching out to law enforcement for assistance. He also thanked local police for their quick response to a situation that could have easily devolved into something much worse for the mother and her children.
Law & Crime reported this isn't the first time Carter has been in trouble with the law. The outlet states he was sentenced to probation in 2012 on charges involving a deadly weapon.
Copyright 2022, RepublicanPress.org