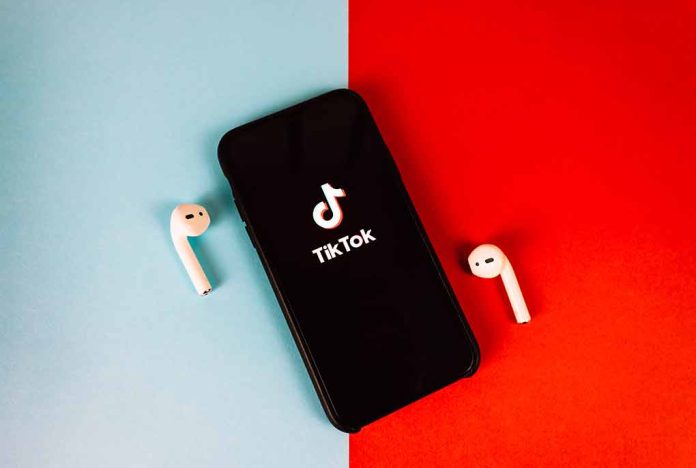 (RepublicanPress.org) – TikTok users choose a variety of different methods to express themselves on the platform. Some people use the short videos to inform others or grow their businesses, while others provide comedy, singing, dancing, or lip-syncing talents. According to recent news reports, a New Jersey judge used the social media space under a pseudonym for two years, allegedly lip-syncing lyrics to some racey tunes — raising eyebrows and ultimately prompting an investigation. Although the NJ Superior Court judge is reportedly off the platform, a concerned party filed a complaint, which might just get him thrown off the bench.
The Complaint
A June 30 complaint filed by Advisory Committee on Judicial Conduct Disciplinary Counsel Maureen Bauman alleged that Judge Gary Wilcox of the New Jersey Superior Court used TikTok under the name Sal Tortorella. She alleges that the judge made 40 videos over almost two years lip-syncing songs that have sexually explicit, criminal, discriminatory, and graphic lyrics. Bauman claims that Wilcox filmed these clips in his chambers, bed, and the courthouse — at times partially clothed or wearing his robes.
The complaint also states the judge used bad judgment in deciding to make such videos and was downright disrespectful. Bauman believes Wilcox violated the Code of Judicial Conduct and must be punished accordingly. The rules she alleges he broke include a rule holding judges to a high standard of integrity, another demanding that judges avoid the appearance of impropriety, and a third stating judges must behave in a manner that doesn't shed a bad light on the court — even in their free time.
Information and Punishment
The Times reported that Wilcox had been a member of the bar for over 30 years and became a Superior Court judge in New Jersey in 2011. Wilcox graduated from Harvard Law School and is 58 years old.
Alexander Shalom, an attorney with the American Civil Liberties Union (ACLU) in New Jersey, said a central part of the case would be the line between free speech afforded by the US Constitution and judiciary rules. The lawyer said the ACLU will be watching closely to see how the issue plays out. He also made it clear that Wilcox, like all other US citizens, is "entitled to due process" under the law.
According to North Jersey, the Superior Court judge has 20 days to answer the complaint formally. After that, the Advisory Committee on Judicial Conduct will schedule a hearing to discuss the issue and decide next steps. The source said the committee has several options for dealing with the situation, including removing Wilcox from his position.
Copyright 2023, RepublicanPress.org