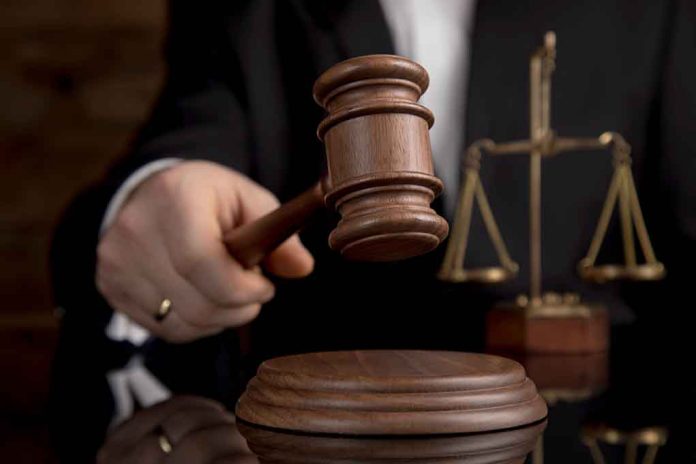 Judge DROPS THE HAMMER in Espionage Case – Major Decision!
(RepublicanPress.org) – In October 2021, police arrested former US Navy employee Jonathan Toebbe of Maryland for attempting to sell nuclear secrets to another country. Both he and his wife, Diana, pleaded guilty in February. The traitorous couple struck deals with federal prosecutors in exchange for the plea, but US District Judge Gina Groh recently rejected the agreement.
A federal judge has rejected plea agreements for Jonathan and Diana Toebbe, who were accused of selling nuclear submarine secrets to a foreign government. She said the agreement's sentencing options were "strikingly deficient."

— Aaron Katersky (@AaronKatersky) August 16, 2022
According to documents, the civilian engineer had access to classified documents outlining information about nuclear warships. Toebbe and his spouse conspired to sell that data to a foreign government. When the male defendant delivered a sampling of the intel to his contact, he was unaware the recipient was really an undercover FBI agent.
When the unscrupulous pair received payment, they attempted to deliver the goods but were nabbed by the feds instead. Upon arrest, they faced up to life in prison but struck a deal for less time from prosecutors. The husband was to serve between 12 and 17 years in prison, while his wife took 3 years. However, according to The Washington Post, the judge said she didn't think it was in the "best interest" of the US to accept the deals.
The rejection could mean the Toebbes could take back their admissions of guilt and demand a trial for their crimes. Groh wasn't opposed to reducing their sentences, however, suggesting instead they hash out a new agreement with a 15-year stint behind bars for each of them.
Do you think the judge should have accepted the plea deals, or should the couple face a harsher punishment?
Copyright 2022, RepublicanPress.org