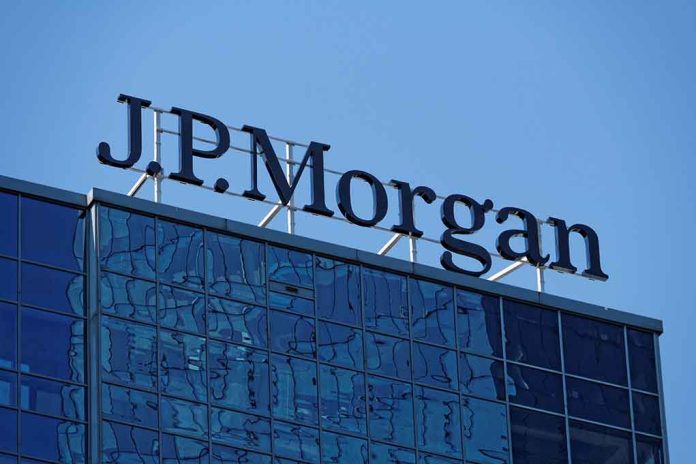 (RepublicanPress.org) – Victims of Jeffrey Epstein's sex trafficking scheme are pursuing damages from JPMorgan Chase & Co for allegedly enabling his crimes. The bank's chief financial officer (CEO) will be among the individuals called to defend it in the class-action lawsuit.
Jamie Dimon, who is the CEO of JPMorgan, will likely have to defend himself in May against allegations that he helped Epstein move money between clients and other victimizers. The bank stands accused of conducting business with the disgraced financier despite numerous executives being aware of his illegal activities. Over 300 people who claim to be Epstein's victims have joined in the suit, leading to the potential for billions of dollars in damages.
What does Jamie Dimon know? https://t.co/CQKiLfpOuT

— Daily Caller (@DailyCaller) March 29, 2023
Another bank exec, Jes Staley — also accused of helping the sex trafficking ring cleanly move its assets — is under fire for potentially being one of Epstein's clients as well. Reuters reports that the former employee had allegedly exchanged pictures of young women with him as well as emails hinting at illicit interactions at the financier's private estate. Staley reportedly continued to keep Epstein on as a client, even after the wealthy client's 2008 conviction for prostituting a minor — and the bank exec even went to a Florida penitentiary to visit the convicted pedophile in 2009, during Epstein's incarceration.
The Guardian reports that JPMorgan has turned around and sued Staley, attempting to place all blame squarely on his shoulders. The bank issued an official statement that the lawsuits against it "are misplaced and without merit," insisting the financial institution shouldn't go down due to the wrongdoing of one former employee.
JPMorgan also faces a separate suit over similar allegations from the US Virgin Islands. CNBC reports that officials believe that multiple bank employees knew Epstein was bringing young women to his private island, but no one did anything to stop the practice because the financial institution was also profiting.
Copyright 2023, RepublicanPress.org