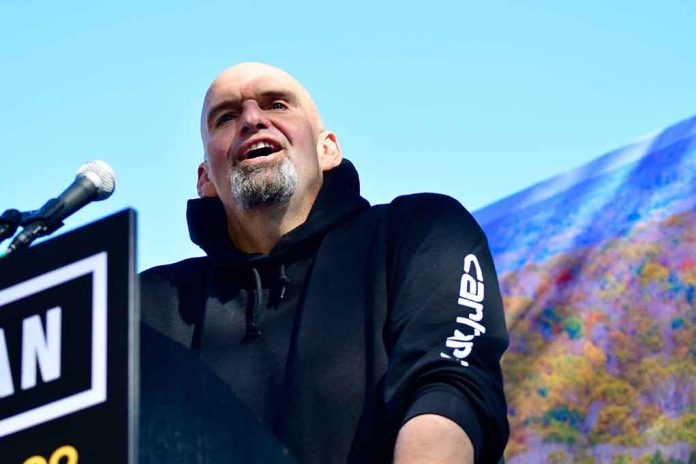 (RepublicanPress.org) – Freshman Senator John Fetterman (D-PA) remains in headlines due to his ongoing medical problems. In May 2022, he suffered an ischemic stroke caused by a blood clot related to irregular heart rhythm. Then, on February 15, 2023, he checked into Walter Reed National Military Medical Center to receive treatment for his long-running clinical depression. In the wake of heightened media scrutiny, his wife recently announced her decision to pack up their kids and flee the limelight.
On February 24, Fetterman's wife of 13 years, Gisele Barreto Fetterman (Almeida), posted a tweet advising her followers that she decided to pack the couple's three children into her car the previous week and drive to Canada. She explained that the press started swarming their home after learning that her husband had checked himself into the hospital.
Continuing, Mrs. Fetterman explained that she wasn't sure how to navigate her current life but lauded the "need to be gentle… with all and with ourselves."
We drove straight into … Canada (and lovely Buffalo NY) (Pro Tip: always have passports ready just in case you have to run away 😅) We talked about lots of hard things and how we will all have to face hard things. About the need to be gentle … with all and with ourselves. pic.twitter.com/0PWQXHrbqT

— Gisele Barreto Fetterman (@giselefetterman) February 24, 2023
Mrs. Fetterman also posted a photo of an embroidered quote by New York Magazine contributor and Pulitzer Prize-winning author Jennifer Senior, echoing that sentiment and pointing out that illness eventually "ensnares" everyone — and when it does, "you'll crave" gentleness from others.
As a humorous side note, Mrs. Fetterman warned readers to keep their passports handy "just in case you need to run away."
Fetterman's chief of staff, Adam Jentleson, issued a statement to media outlets shortly after the senator checked himself into Walter Reed explaining that he suffered from depression "off and on through his life" but that it worsened in recent weeks.
On February 27, the senator's communication director, Joe Calvello, released a follow-up statement, advising that Fetterman was "on a path to recovery" but that it would be a "weeks-long process." He also thanked everyone for "the flood of well-wishes" and promised to keep the media updated as the senator's treatment progressed.
Copyright 2023, RepublicanPress.org