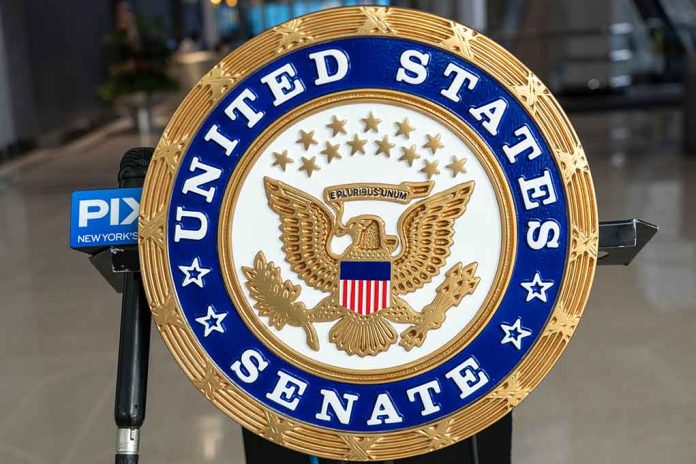 (RepublicanPress.org) – Pennsylvania's Democratic Lieutenant Governor John Fetterman suffered a stroke while campaigning for the US Senate in May 2022. He released a statement at the time, explaining that there was a clot in his heart. Fetterman reported that doctors "removed the clot, reversed the stroke," and told him that he didn't sustain any permanent cognitive damage. After a brief recovery period, he hit the campaign trail again and ended up beating his Republican opponent, former heart surgeon turned television personality, Dr. Mehmet Oz. Unfortunately, that wasn't the end of his health scares.
On February 8, Fetterman's staff circulated a notice advising that the senator went to the hospital because he was feeling lightheaded near the end of a recent Democratic retreat. Out of an abundance of caution, the legislator notified a staffer, who promptly transported him to George Washington University Hospital for testing. According to his office, the doctors found no evidence Fetterman suffered another stroke but decided to keep him overnight for observation.
JUST IN: Fetterman hospitalized after feeling lightheaded https://t.co/w76gGXXlnV pic.twitter.com/r80v1lOe5X

— The Hill (@thehill) February 9, 2023
Born in Pennsylvania to teenage parents and humble beginnings, Senator Fetterman is the epitome of the American dream. After successfully earning a college degree, the lawmaker joined the Big Brothers/Big Sisters program to give back to the community. From there, he realized he could do even more, so he started a GED program in Braddock, Pennsylvania, to help others with their education.
According to his bio, Fetterman's students encouraged him to run for mayor — he did and won. After serving in that position for more than a decade, he became lieutenant governor in 2018, subsequently running for a seat in the Senate in 2022. He succeeded there too.
The only glitch in his plans seems to be his health. Although he previously stated he only suffered some auditory processing problems from his stroke, this most recent scare puts his health back at the forefront of some Americans — especially those in Pennsylvania.
However, it doesn't seem doctors were concerned that Fetterman's lightheadedness was anything serious. His office reported on February 10 that after multiple tests ruled out stroke or seizure, he was sent home and is expected to return to work on Monday.
Copyright 2023, RepublicanPress.org