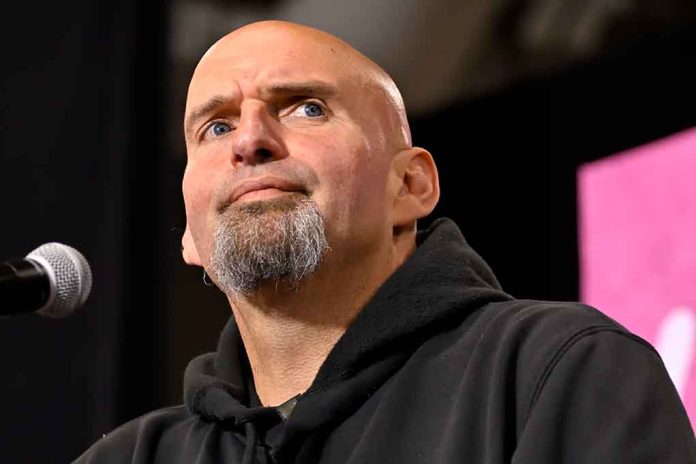 Fetterman Considered as Possible 2024 Candidate
(RepublicanPress.org) – Lieutenant Governor John Fetterman (D-PA) ran for a seat in the Senate against his Republican opponent Dr. Mehmet Oz. On November 9, with most of the votes tallied, NBC officially declared victory for the Democrat. As of that date, he earned 49.4% of the vote, whereas Oz garnered 48.1%. In late October, the two sparred on stage during a debate many said Fetterman lost by a lot. The politician suffered a stroke in May and was having a bit of trouble communicating. Evidently, the people of Pennsylvania were largely unaffected by his debate performance because they advanced him to the upper chamber of Congress.
Now, at least one TV host is looking at the Senator-elect as a presidential possibility sometime in the future.
Are Eyes on DC?
During an MSNBC spot, hosts Katy Tur and Andrea Mitchell had much to say about the down-to-earth Democrat, with Tur suggesting him as a possibility for the presidential race at some point. Mitchell spoke about him, commending Fetterman for gaining favor with the voters who live there. She said the lieutenant governor was able to rally the locals and earn their support better than President Joe Biden or former President Donald Trump. The host did say, however, that the Democrat's victory was partially due to "extremism" on the PA ticket. Similarly, former White House Press Secretary and current MSNBC political analyst Jen Psaki said his ability to keep it real was something voters appreciate.
Although they didn't specifically mention the 2024 presidential race, Tur did wonder out loud about his future in politics. Tur suggested the the Oval Office was not out of the realm of possibility, with her floating the idea of "Fetterman as a nominee at some point for president."
Fetterman's Experience
Fetterman has been involved in politics for nearly two decades. In 2009, he won position of mayor for Braddock, Pennsylvania, after claiming victory against then-mayor Pauline Abdullah. He remained in office from 2006 all the way until 2019.
Fetterman left the office of the mayor after running alongside Tom Wolfe in the state's gubernatorial election in 2018. When he became the lieutenant governor, one of his major priorities was addressing the legalization of marijuana. He reportedly visited counties throughout Pennsylvania, speaking to residents about it.
However, an October report from AP News notes that records show Fetterman had a particularly light schedule during his time as lieutenant governor, and that he was "often absent from state business." According to the outlet, a spokesperson insisted that the reports on his light schedule were "misleading" and "inaccurate," adding that they don't reflect everything that he accomplished while in office.
Do you think he has the capacity to someday become the leader of the free world?
Copyright 2022, RepublicanPress.org