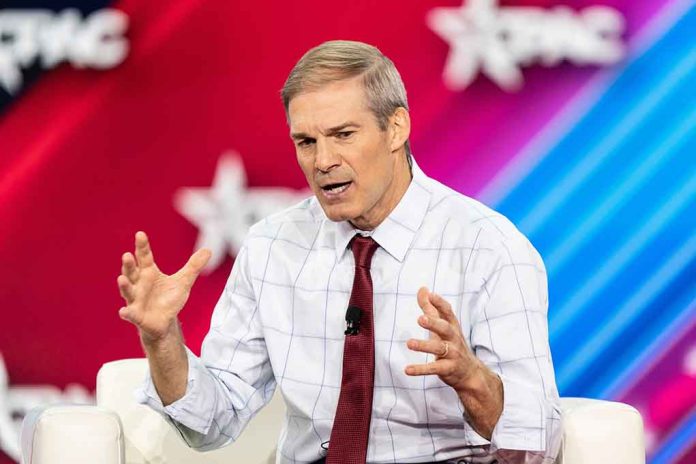 (RepublicanPress.org) – In May 2022, then-ranking member of the House Judiciary Committee and Representative Jim Jordan (R-OH) sent a letter to FBI Director Christopher Wray, advising him the panel allegedly had information indicating the bureau was firing FBI whistleblowers for exercising their First Amendment rights. Four months later, the legislator and a couple of his Republican colleagues requested an interview with FBI Human Resources Executive Assistant Director Jennifer Leigh Moore regarding the matter. She recently testified before the committee.
On April 25, The Hill reported that Jordan, who now serves as the committee's chair, subpoenaed Moore shortly after her voluntary testimony. Jordan's spokesperson, Russell Dye, said Moore would not answer certain questions asked about the FBI's alleged "retaliation against" the whistleblowers who "raised concerns about abuses" within the agency — prompting the formal subpoena.
JUST IN: Jordan subpoenas FBI human resources official https://t.co/VLM2V9yiyV pic.twitter.com/72cAwl8C4i

— The Hill (@thehill) April 25, 2023
According to the source, the FBI released a statement of its own regarding Moore's testimony. The agency said the assistant director was cooperative during the inquiry but declined to answer questions about witnesses' specific claims that were currently undergoing review by the FBI. The bureau said Moore testified for several hours, answering as much as she could without compromising the integrity of any investigation or the privacy of the people involved.
The FBI acknowledged Congress' right to oversight, claiming the entity will continue to cooperate with the committee's ongoing investigation. The purpose of this particular select subcommittee is to look into the possible governmental weaponization of federal agencies against the people of the United States.
The Hill previously reported that House Democrats refuted Republican claims that they had "dozens and dozens" of whistleblowers telling them about FBI misdeeds, saying none of the three questioned reached "whistleblower" status, but were simply "witnesses" giving opinions without evidence.
Moore has not released a public statement about whether she will comply with the House subpoena.
Copyright 2023, RepublicanPress.org