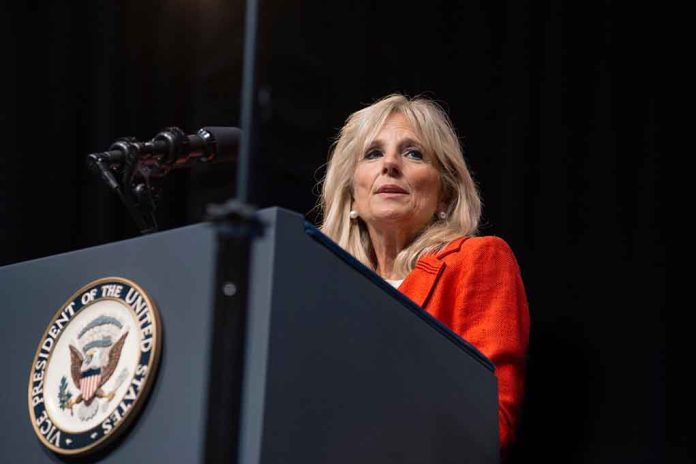 White House SHAKEUP – Jill Biden Notified
(RepublicanPress.org) – While it's not unusual for White House officials to depart after a year of service, the number of press officials suddenly leaving is raising some eyebrows. POLITICO reported on the resignation of White House Communications Director Kate Bedingfield earlier in July, and former White House Press Secretary Jen Psaki took her leave back in May. Most recently, First Lady Jill Biden's press secretary announced his plan to leave.
On Tuesday, July 26, Michael LaRosa announced his departure from the White House on his Twitter account. He thanked the first lady for giving him the chance to be a "small part of history," calling his time in her services the "proudest and most rewarding experience" of his life.
From long drives in minivans, jumping on and off planes, and "No Malarkey" busses on the campaign to traveling to 10 countries, nearly 40 states, and over 75 cities in the first year and a half of the Biden-Harris Administration, on Friday, I will be moving on to a new adventure.

— Michael LaRosa (@MichaelLaRosa46) July 26, 2022
Washington, DC-based policy and communications services company Hamilton Place Strategies issued a statement announcing it hired LaRosa as its managing editor. The company offers various services like risk management, impact reports, and issue analysis.
With roughly three months before the midterm elections, interest is focusing more on the potential replacements for departing staffers like LaRosa and Bedingfield and less on the resignations themselves. According to a July 26 report from The Hill, rumors are circulating that First Lady Jill Biden's communications director, Elizabeth Alexander, could replace Bedingfield.
Do you think this mass exodus of White House communications officials could hurt Democrats' chance of keeping control of the House and Senate?
Copyright 2022, RepublicanPress.org