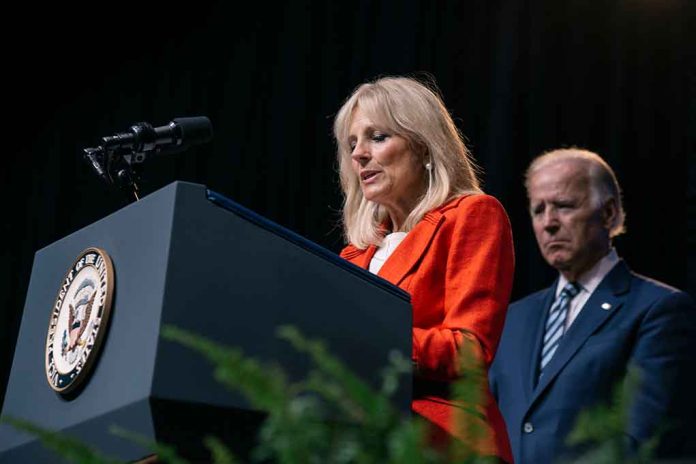 (RepublicanPress.org) – Earlier this year, multiple Historically Black Colleges and Universities (HBCUs) were forced to shut down classes as a result of bomb threats. High schools across America have also dealt with a rise in threats at schools across the US. This week, the school that the first lady teaches at faced a similar problem.
On Tuesday, March 29, First Lady Jill Biden's workplace was notified of a potential threat, which led to the immediate evacuation. Northern Virginia Community College abruptly shut down its second largest campus after a bomb threat was directed toward the school. The first lady hadn't left the White House when the warning was issued. According to her spokesman Michael LaRosa, she was never in danger.
Another threat later forced the college to close its six other campuses for the day. Luckily, no one was reported injured as a result of the threats.
First Lady #JillBiden was forced to cancel a community college class after a bomb threat was sent to the Northern Virginia Community College, the school and a spokesperson said. https://t.co/iLAaFOlJYt

— The Epoch Times (@EpochTimes) March 29, 2022
In February, Vice President Kamala Harris' husband, Doug, was evacuated from a school in Washington when someone issued a bomb threat. The second gentleman wasn't in danger during that incident, either.
There were 34 school shootings in 2021 across America. Since students have returned to in-person classes, school shootings and bomb threats have risen. Whether all these violent threats hold weight or some of them are just fear tactics is unknown. However, all threats are considered serious by law enforcement.
If you or someone you know learns of a threat against a school, or anywhere, report it to your local police.
Copyright 2022, RepublicanPress.org