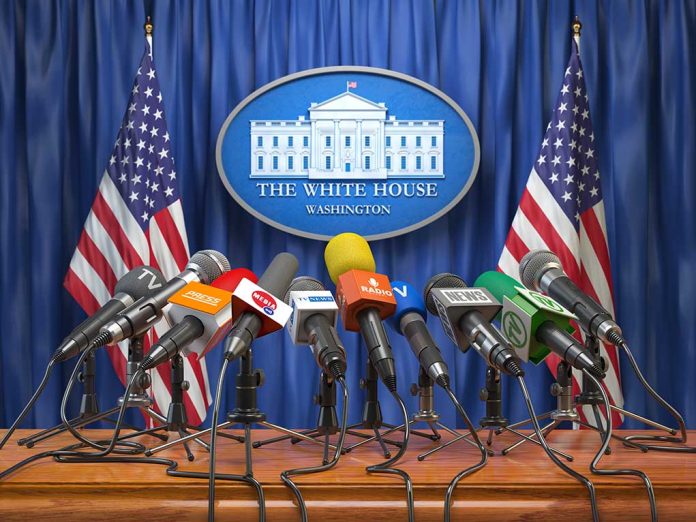 (RepublicanPress.org) – The White House continues taking heat over its inability to unite Senate Democrats behind its voting rights measures. Somehow, Press Secretary Jen Psaki managed to find a way to make matters worse during an interview with ABC's "The View" on Friday, January 21.
During the interview, the press secretary offered coping advice to "frustrated, sad, angry" people. Looking squarely at the camera, Psaki told viewers to run with their frustration. She suggested they attend a kickboxing class or pour themselves a margarita. "Do whatever you need to do," over the weekend, but begin the fight to push the Democratic agenda Monday morning.
Jen Psaki About Voting Rights Loss: 'Go to a Kickboxing Class, Have a Margarita' https://t.co/4QPvFxWCjB

— @DanaGuefen (@DanaGuefen) January 24, 2022
Psaki's remarks received immediate backlash. For example, Republican Senator Ted Cruz's Special Communications Director Steve Guest called the press secretary's interview "unreal" and questioned how she could frame that kind of rant as "advice."
Democrats are upset with the press secretary too. Progressive host of "The Young Turks" Cenk Uygur said that it isn't the responsibility of voters to like the administration. He was shocked by Psaki's comments and pointed out how ridiculous it is that she expects voters to fight harder because Biden failed. Actress Susan Sarandon, another progressive, said many Americans can't afford to take kickboxing classes or purchase margaritas.
How do you feel about the way the White House is handling the current issues?
Copyright 2022, RepublicanPress.org