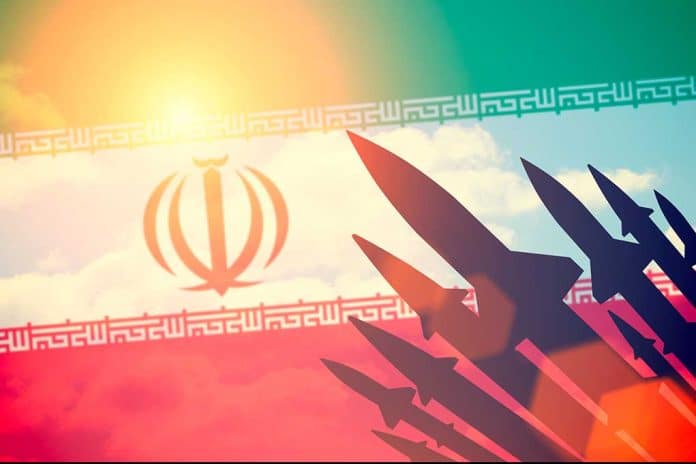 (RepublicanPress.org) – On Tuesday, February 8, Iranian officials met in Vienna, Austria, with the remaining members of the 2015 nuclear deal as part of an effort to revive the accord. Although the United States didn't participate directly in the talks, they did so behind the scenes through its diplomatic partners from the United Kingdom, Germany, and France. However, Iran's state-run television network (IRIB) promptly threw a wrench into those talks the following day.
On Wednesday, the IRIB reported that the Islamic Revolutionary Guard Corps (IRGC) unveiled a new long-range ballistic missile. IRGC Air Force commander Brig. Gen. Amir Ali Hajizadeh told attendees of the unveiling ceremony the missile uses solid fuel, has an effective range of 1450 kilometers (roughly 900 miles), and can breach defensive missile shields while traveling towards its objective.
https://twitter.com/AdamMilstein/status/1491419071862034432
Maj. Gen. Mohammad Bagheri, the IRGC's commander and Iran's supreme head of its armed forces, echoed that sentiment. He also bragged about Iran's advancing military might and vowed to continue its effort to expand its power.
Iranian officials named its new missile "Khaybarshekan" or "Khaybar breaker," which seems to be a reference to a 7th century battle at an ancient oasis in the Arabian Peninsula called Kheibar. Disturbingly, the Jerusalem Post reported that "Khaybar, Khaybar ya yahud" is commonly used as a chant promoting the mass murder of Jews.
Despite thinly-disguised threats from Iran's military leaders, President Joe Biden continues to insist on pursuing America's reentry into the Iranian nuclear deal. Do you think this is the right approach to dealing with Iran?
Copyright 2022, RepublicanPress.org