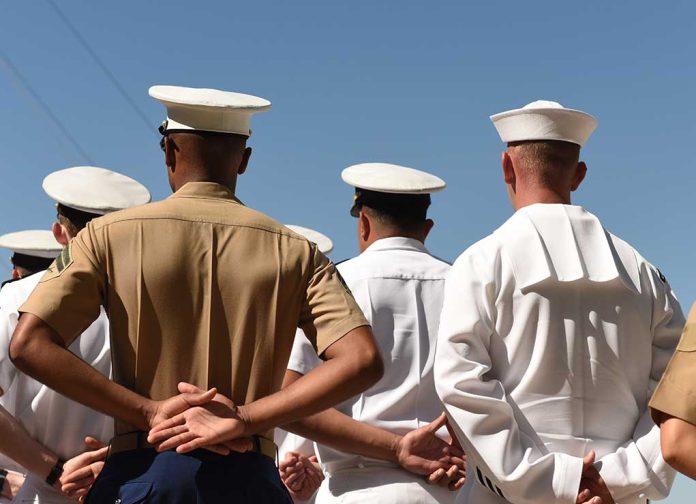 (RepublicanPress.org) – The brave men and women who defend the country from threats at home and abroad face several life-threatening challenges in times of war and peace. Sadly, a US Navy technician died while assigned to a secret mission overseas.
On March 20, the Navy Times published a report detailing the accidental death of Cryptologic Technician Technical (CTT) First Class Robin Collins, 26, as the result of a freak accident. For those unfamiliar with the term, CTTs are experts in the use of air, land, and ship-based radar surveillance systems.
Cryptologic Technician (Technical) 1st Class Robin Nicole Collins, 26, died in July 2021. https://t.co/XoBPEMVzZb

— Navy Times (@NavyTimes) March 21, 2023
The Navy Times obtained a copy of a report covering an internal investigation conducted by naval officials into Collins' death on July 18, 20221, only three days into her deployment on a secret mission. Collins was assigned to the United States Sixth Fleet at the time, with a base of operations in Naples, Italy.
The report showed that an investigator determined that Collins died as the result of a "tragic accident" after the roof and chimney of a structure collapsed on her due to a "sudden and intense" windstorm. Elaborating, the investigator reported that within minutes, the weather shifted from a "calm sunny day to extreme winds."
The Navy Times reported that Collins was serving on "temporary duty" at the time of her death, accompanied by a chief cryptologic tech and intelligence specialist second class. A fourth individual's name and position/rank were redacted from the investigative report.
Reportedly, all four were watching television during their lunch break on a calm Sunday afternoon. Then, suddenly and "without warning," the wind picked up to an estimated velocity of 90 mph, according to the unnamed intelligence specialist. They rushed to close all the structure's windows.
The investigator reported that the roof started breaking up, and the chief cryptologic technician called for everyone to evacuate the building as "large sections" started plummeting to the ground. After noticing that Collins didn't make it out of the building, the intelligence specialist broke out a window, reentered the structure, and found Collins buried under a five-foot pile of debris.
The group called for a medivac helicopter and started performing CPR on Collins. However, when the chopper arrived roughly 45 minutes later, emergency rescue personnel pronounced her dead at the scene.
Copyright 2023, RepublicanPress.org