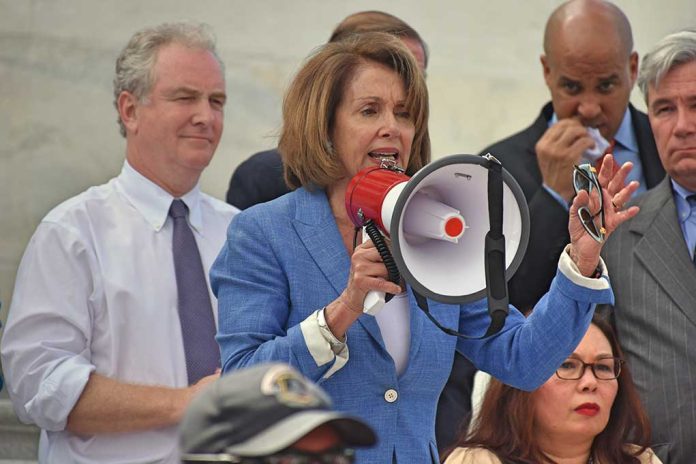 (RepublicanPress.org) – As the old saying goes, a picture can paint a thousand words. However, Reddit users surpassed that figure after a user posted a decades-old image of House Speaker Nancy Pelosi (D-CA) on the discussion website.
On Friday, March 18, user "Rainbowarriorhere" posted a photograph of Pelosi standing next to former President John F. Kennedy during his 1961 inauguration. Pelosi was a 20-year-old college student at the time.
https://twitter.com/xeni/status/1504240635368206336
Pelosi's photograph received more than 2,200 comments on Reddit as of March 22, although the post has now been removed by the moderators. Participants left a variety of remarks on the post, with several users writing the image was a reminder that all too often, politicians are born, not elected.
For instance, Pelosi's father, Thomas D'Alesandro, Jr., formerly served five terms as the US Representative for Maryland, beginning in 1939. He then followed up by serving as Baltimore's mayor from 1947 to 1959. The Speaker's mother, Annunciata "Nancy" D'Alesandro, worked as a women's organizer for the Democratic party, and her brother, Thomas D'Alesandro III, served one term as Baltimore mayor from 1967 to 1971.
Several other users remarked that Pelosi's photograph reminded them of how long some politicians stay in office. For instance, one person quipped, "Show me a pic that tells me she's been in politics for too long without saying it in a caption." Californians first elected Pelosi to the House of Representatives in 1987, and she's currently on her 18th term in office.
Do you support the idea of term limits for politicians, or do you think they should be allowed to continue serving as long as they win elections?
Copyright 2022, RepublicanPress.org