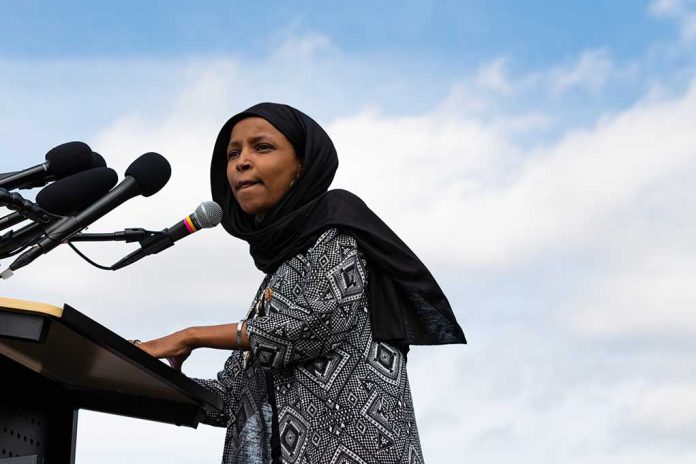 (RepublicanPress.org) – Newly-elected House Speaker Kevin McCarthy (R-CA) isn't wasting any time cleaning up committee assignments since taking over the chamber in January. As the speaker, McCarthy can remove members from select committees on his own authority. However, the full House must vote to remove members from other panels, and that's precisely what happened to Rep. Ilhan Omar (D-MN).
On February 2, the Republican-led House voted to approve a resolution (H.Res.76) to remove Omar from the House Committee on Foreign Affairs. The measure passed along party lines by a roll call vote of 218 to 211. One Republican member, Rep. David Joyce (R-OH), abstained by voting "present."
House Republicans pass resolution to remove Democrat Rep. Ilhan Omar from Foreign Affairs committee | Just The News https://t.co/pUufxbdY4J

— John Solomon (@jsolomonReports) February 2, 2023
As one might expect, fellow Squad member Rep. Alexandria Ocasio-Cortez (D-NY) punched back at her Republican colleagues in a fiery floor speech shortly after the vote.
AOC accused Republican House members of "targeting women of color" by voting to remove Omar from the committee. The Minnesota lawmaker was born in Somalia and became the first naturalized citizen of African birth to serve in Congress.
"I had a member of the Republican caucus threaten my life and the Republican caucus rewarded him with one of the most prestigious committee assignments in this Congress."

Watch Rep. AOC respond to Republicans' removal of Rep. @Ilhan Omar from the Foreign Affairs Committee ⬇️ pic.twitter.com/A22R7jQrlC

— Rep. Alexandria Ocasio-Cortez (@RepAOC) February 2, 2023
Omar was accused of making anti-semitic or anti-American remarks on multiple occasions, which were listed in H.Res.76 as the reason for her expulsion.
February 10, 2019: Omar suggested that Jews and AIPAC (the American Israel Public Affairs Committee) were buying political favors. "It's all about the Benjamins," she tweeted, referencing the $100 note, which features a portrait of Benjamin Franklin.
In March 2019: Omar "trivialized" the September 11, 2001 attacks. "Some people did something," she reportedly remarked during a speech before the Council on American-Islamic Relations.
May 16, 2021: Omar lashed out at "Israel's apartheid government," adding that anyone who disagreed with that needed to "get on the right side of history."
June 7, 2021: Omar reportedly equated the US and Israel with the Taliban and Hamas. According to her, all four "have the same level of accountability" for committing "crimes against humanity."
Anti-Semitism must be called out, confronted, and condemned whenever it is encountered, without exception. Read my statement with House Democratic leadership on the comments of Congresswoman Ilhan Omar: https://t.co/5vdDWwR3HL pic.twitter.com/fVmqN7WiTf

— Steny Hoyer (@RepStenyHoyer) February 11, 2019
The resolution also pointed out that Democrats spoke out against Omar's remarks on multiple occasions, most notably on February 11, 2019, when Democratic House leaders issued a joint statement pointing out that antisemitism "must be called out… and condemned… without exception" whenever encountered.
Copyright 2023, RepublicanPress.org