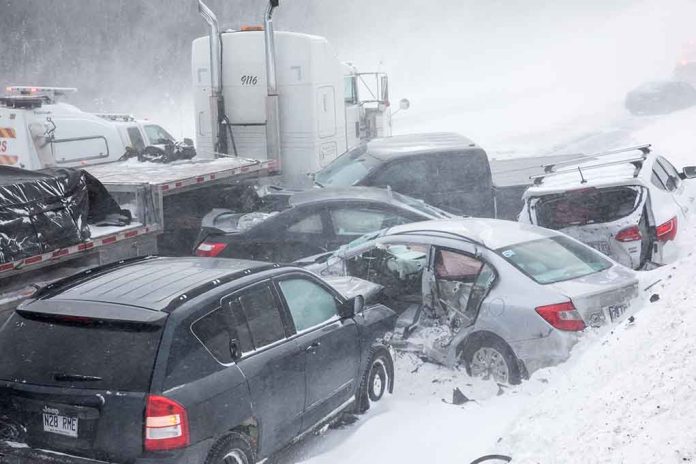 (RepublicanPress.org) – On January 3, a major snowstorm blasted Washington, DC, Maryland, and Virginia, dumping more than a foot of snow in some areas. Making matters worse, an accident involving multiple tractor-trailers on a 50-mile stretch of I-95 in Virginia stranded hundreds of motorists for over 20 hours. Amid that chaos, Liberals decided to hit their social media accounts in an effort to blame a Republican for the incident.
True to form, a group of Liberals lashed out at Virginia's Republican Governor-elect Glenn Youngkin, claiming he somehow caused the traffic jam.
Looks Youngkin failed his first test in Va, with traffic stopped for 10-12 hrs on 95 in Virginia. Failure for gov.

— Jennifer G (@JenniferinNC) January 4, 2022
There's only one problem. Youngkin doesn't assume office until January 15. If there's any blame to place at the steps of the Virginia governor's mansion, Democrat Ralph Northam is its current occupant.
Of course, the raging Twitter storm didn't take any of that into account for hours. For example, investigative journalist Jim DeFede posted a clip from I-95 discussing the traffic jam. He called on help from whoever was in charge, noting that he hadn't seen any state troopers or rescue operations for hours.
Well, this is not a good start or look for Virginia's Gov. Glenn Youngkin. https://t.co/NEm5qg8zTO

— Stacey Ma Dukes Hopkins (@staceyhopkinsga) January 4, 2022
Liberals quickly swarmed his post, writing that Youngkin's term as governor wasn't off to a very good start.
Time will tell how Youngkin's time in office will impact Virginians. But for the next few days, Northam remains at the helm. With any luck, he handles any future issues better than the state's response to the I-95 incident.
As for motorists, they can protect themselves by ensuring they keep emergency supplies like water, food, and blankets in their cars during the winter.
Copyright 2022, RepublicanPress.org